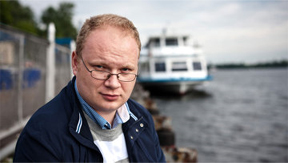 Russian civil society is up in arms over the savage beating of Kommersant journalist Oleg Kashin. In the early hours of November 6, 2010, Kashin was nearly killed by two unknown assailants – a scene that was caught on tape and later leaked to the media, causing even more of an outrage. Protesters have been continually demanding that the perpetrators be found and brought to justice, and a presidential order put the investigation directly under the supervision of the prosecutor general.
Attacks on journalists are far from rare in Russia, and so is impunity. While suspects often abound, 94% of murder cases have never been resolved. Writing for Yezhednevny Zhurnal, noted journalist Yulia Latynina lays out the most likely perpetrators of Kashin's brutal attack.
Kashin – Who Ordered the Attack?
By Yulia Latynina
November 8, 2010
Yezhednevny Zhurnal
The attack on Kommersant journalist Oleg Kashin is notable for the fact that, like in an Agatha Christie novel, its circle of suspects is finite and small.
The first suspect is Khimki Mayor and Afghan war veteran Strelchenko. The same thing happens to all of Strelchenko's opponents – their skulls get broken. Exactly two years ago, they broke the skull of Mikhail Beketov; on the anniversary of Beketov's beating, they broke the skull of Khimki Right Cause leader Fetisov, and a day later – Oleg Kashin.
What do we have here in Khimki, Chechnya? Who is Mayor Strelchenko – Ramzan Kadyrov?
The second suspect is the manager of the Federal Agency for Youth Matters, a close associate of Surkov, the spiritual leader of the Putinjugend – Vasily Yakemenko.
In August 2010, Kashin uncovered and expanded upon an unappetizing story about Yakemenko.
A young girl attending Seliger, Anastasia Korchevskaya, decided to promote herself by bragging about her proximity to the top command, and posted a photo of herself with Yakemenko online with the caption: "Seliger 2008. Yakemenko still thinks I'm madly in love with him." Yakemenko commented in response: "Korchevskaya, if you came to me two times at night in my tent, it doesn't mean I think you're in love with me."
The page was then deleted, but Kashin managed to make a screenshot and generally did everything possible to expand upon the story. It turned out that Yakemenko not only uses his authority to sleep with schoolchildren, but he also brags on LiveJournal that he screws them in tents. Kashin is not a simple person; he has cooperated with the Kremlin on multiple occasions (it is only worth nothing how he insisted that Private Sychev's legs fell off on their own accord), and his position could be seen not just as the position of an enemy, but worse – the position of a traitor.
To declare Kashin to be an enemy of the people as a result of this issue was awkward. In the pedofuhrer's place, it was worth it to wait and latch onto some other one of Kashin's writings. And, for sure, when Kashin did an interview for Kommersant with the head of the antifascists who were rampaging against the Khimki administration, the Young Guard website, which is under Yakemenko's jurisdiction, came out with an article entitled "Journalist-traitors (my emphasis – Y.L.) must be punished!"
In the interview with Anonymous (an unprecedented step that Kommersant went ahead with the publication of an anonymous interview, but that's just it – Anonymous's name is well known), Khimki is called "absolute evil," and Strelchenko – "a bandit from the 90s." But the most important thing is that Anonymous marked the beginning of "a new level of social evolution in our country." The very existence of these kinds of youth movements, capable of instantaneous organization, self-sacrifice, and going to prison, and the enthusiasm with which the anarchists were greeted by Khimki residents who happened along their path, was a threat to the status and the money that people who love to screwing schoolchildren in Seliger are accustomed to.
And this came through very clearly in the Young Guard article. The article ended like this: "We cannot be under the thumb of information extremists. They are enemies, and that means they will be punished."
Punished – how? Here is just a shortened list of beatings whose authors have never been found. The epidemic of beatings of Polish diplomats, the beating of Marina Litvinovich ("You need to be more careful, Marina!" she was told by one of the men who was standing nearby when she woke up), the beating of Lev Ponomarev. The murder of antifascists; the investigation of their connections with the Kremlin needs to look at the organizations Russian Verdict and Russian Image, which were joined by Nikita Tikhomirov and Yevgeniya Khasis – the presumed murderers of Markelov and Baburova.
Finally, we mustn't fail to mention the third candidate. Oleg Kashin is extremely well known as the creator of the expression "sh!tty Turchak," referring to the governor of Pskovskaya Oblast, former coordinator of youth policy for United Russia, Seliger guest and son of Putin's friend – Andrei Turchak.
The writing on Kashin's blog, however, was not about Turchak, but about Kaliningrad Governor Boos: "Compare him with any governor, not even with Ramzan and not with Tuleyev, with any sh!tty Turchak – is this Boos uncompromising?" – wrote Kashin.
If you think about the tone used on the Internet, the remark can be seen almost as innocent: but the son of Putin's friend suddenly personally demanded that Kashin "apologize within 24 hours," and then even took the time to call a press conference, where he called Kashin's retort "informational trash." "Now I know what kind of person this is, he is not a journalist as I understand it."
I mention Andrei Turchak, by the way, for the completeness of the list: since, although the epithet "sh!tty Turchak" is now stuck with the former coordinator of youth policy for United Russia, this whole story looks more like a routine dirty internet fight than anything else. As opposed to the stories of Strelchenko and Yakemenko.
And so, like in an Agatha Christie novel, the list of suspects has been defined, and there is no chance that the crime was committed by the yardkeeper on the side. Interrogations on this case need to be carried out on Khimki Mayor Strelchenko, youth movement leader Vasily Yakemenko, and Governor Andrei Turchak. In the best case scenario, there will be talk about a semi-independent initiative by some kind of fascist organizations who were upset about the interview with Anonymous. But it's most likely that one of these two, and not three – either Strelchenko or Yakemenko – decided that he would get away with everything. And let's note: all of this is connected to Khimki in one way or another.
And another thing. Yes, I understand that there is more than one suspect. But, in my view, it is stupid to walk around with signs saying "find the criminals" and "take measures," refraining from naming the suspects. If you guys are going to ask them to "find the criminals," then they're going to respond "we're looking." Gelman deserves honor and praise for writing that he thinks Yakemenko is behind the attack.
Translation by theotherrussia.org