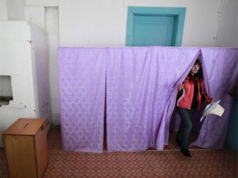 On October 10, elections for local officials will be held in various regions throughout Russia. Members of opposition parties have been warning for weeks of unfair campaigning tactics and widespread falsifications on the part of Kremlin-aligned parties, the ruling United Russia party in particular. The news portal Kasparov.ru asked deputies from a range of parties about their prospects for – and fears about – the elections.
Gennady Gudkov, State Duma Deputy from A Just Russia
In conditions where there's hydrochloric acid in the pool, it's going to be difficult to win, considering that our opponent is swimming with paddles in clean water, and we're in a pool of hydrochloric acid. With the kind of administrative and bureaucratic support that United Russia has, it's going to be difficult to compete with the party in power. The elections are very dirty – dirtier than in March. In Chelyabinsk, for example, federal employees are being forced to vote in several different areas. We've been informed about this.
We're counting on victory in the municipal elections of a number of outer-Moscow cities and on good results in several regions. If the elections were even a tad bit honest, United Russia would have joined the opposition long ago.
Sergei Mitrokhin, Yabloko Party Leader
It's difficult to make predictions in our electoral process. I think there's going to be ballot-stuffing in United Russia's favor everywhere. How many will be stuffed, nobody knows. If it's too few, then the governors, mayors, and regional administrative leaders will be risking their posts.
During the March campaign, we had good results in Tula in the Tverskaya region. There's a positive trend, but there are no grounds at all to say that the elections will be honest. There's going to be massive absentee voting in Chelyabinsk.
Boris Nadezhdin, Political Council Member of Right Cause
In the places where our tickets had good chances, they were removed [from the ballots]. This happened, for example, in Kazan and Kostroma. We have tickets left in Magadan and Chelyabinsk; I'm counting more on Chelyabinsk. Because first of all, a very scandalous campaign is going on in Chelyabinsk, and secondly, we are participating alongside Yabloko, and that means the chances of either party winning decrease considerably.
Andrei Andreyev, State Duma Deputy from the Communist Party
Currently I'm in Magadan, working on the elections. The electoral campaign is extraordinarily dirty and cynical. Magadan television, and the channel MTK in particular, is heaping utter garbage onto the three parliamentary parties besides United Russia.
Ilya Yashin, Solidarity Bureau Member
It wouldn't be right to talk about the chances of the candidates, since this country has long since ceased to have elections, and instead there's an appointment process reminiscent of elections only in appearance.
Candidates from the non-systemic opposition can participate in elections in order to hurt the government's reputation, but they can only achieve success in the case that the system malfunctions – as happened, for example, in Tver and several other regions.
Yevgeny Shevchenko, Representative of the Patriots of Russia:
We see the chances of our regional branches in participation in the elections positively, since they accomplished very good work. However, the news from the regions gives some cause for alarm. We are cautious about the fact that party tickets were taken off the ballots for unsubstantiated reasons. We have fewer complaints than in previous years. Clearly, the regional authorities have finally listened to the president and have begun to create the conditions for competition in the regions, but there is lawlessness in the municipal elections in a whole swath of regions.
Sergei Ivanov, State Duma Deputy from the LDPR:
I see the chances for the LDPR in the elections as very good. We've been up against the administration's resources since 1989, and we always find our voters.
Aleksandr Khitshteyn, State Duma Deputy from United Russia:
I can only say what work I do, and I'm in charge of elections in Samara. I'm convinced that United Russia candidates will get the majority of the mandates in city duma elections. As far as the elections for mayor are concerned, I'm convinced that Dmitri Azarov will win – what's more, in the first round. The campaign has been sufficiently calm. Naturally, what's unpleasant is the use of administrative resources by the current mayor, Victor Tarkhov.