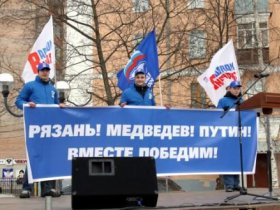 Local authorities in the Russian city of Ryazan are attempting to ban citizens from holding more than one large public event – including protests – per day. The city's anti-terrorism commission argues that too many events where more than 100 people attend overburdens the police and makes it harder for them to prevent terrorist attacks. Oppositionists dismiss this reasoning and maintain that the tactic is part of a growing trend meant to prevent anti-government protests altogether.
According to a report by local news agency MediaRyazan, police say that 1276 large public events have been held in Ryazan so far this year, with 748 of those being civic or political demonstrations or rallies. The civic or political events were attended by approximately 150 thousand people, with 350 thousand law enforcement officers also on the scene.
Ryazan's anti-terrorism commission said that with the number of demonstrations on the rise each month – and unsanctioned ones in particular – the police have become unable to properly maintain law and order during official holiday events. As a result, said the commission, no more than one large event should be allowed to be held in the city per day.
MediaRyazan did not manage to obtain comment from any of the members of the commission: Governor Oleg Kovalyov left after the meeting for a business trip, Deputy Governor Andrei Sevelev was unavailable altogether, and the regional police bureau turned down requests to speak with the press.
Oppositionists were more than skeptical of the legal basis for the initiative. "It's hard for me to imagine how you can ban holding several massive events in the city," said Sergei Yezhov, leader of the Ryazan branch of the Other Russia opposition coalition and a co-organizer of local rallies in the Strategy 31 campaign for free assembly. "We sometimes have more police come to our rallies than participants. Let them sit at home and not participate."
The opposition leader added that Ryazan Deputy Police Chief Sergei Sosnovsky denied that such a ban would ever actually go into effect.
Nevertheless, political analyst Vladimir Avdonin noted that Ryazan was an odd choice for such an initiative, given that it has few large protests. The only ones that regularly occur are held annually by the Communist Party on November 7 and May 1, he said.
"So it's possible that this is a test run," Avdonin explained. "First ban [rallies] in Ryazan, and then in other cities."
That sentiment was shared by Lev Ponomarev, notable activist and head of the organization For Human Rights. He added that limits on civil rights can only be introduced during states of emergency, "but there's no state of emergency in the city." Ponomarev also noted that this was not the first time local authorities have attempted to ban rallies on the basis of too few police officers, citing Yekaterinburg as an example.
One of the organizers of the Moscow Strategy 31 rallies, Konstantin Kosyakin, agreed that the commission's initiative has nothing to do with terrorism and was solely meant to prevent legitimate anti-government protests. ""It's not right," he told the Kasparov.ru news portal. "There is a federal law about rallies, in which the frequency of holding events is in no way written; to ban holding more than one rally a day is something awful."