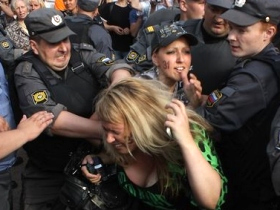 A local St. Petersburg opposition leader has been sentenced to 14 days of arrest for organizing a protest in defense of the right to free assembly, Kasparov.ru reports.
Andrei Pivovarov, leader of the St. Petersburg branch of the Russian People's Democratic Union (RNDS), was convicted on September 15 of organizing an unsanctioned rally and "insubordination to the lawful demands of a police officer." He has been ordered to pay a 2000 ruble fine (about $65) and must spend 14 days in a criminal detention facility.
The rally was part of the Russian opposition's Strategy 31 campaign, which is dedicated to the right to free assembly guaranteed under Article 31 of the Russian constitution. Pivovarov was among organizers of an August 31 rally at St. Petersburg's Gostiny Dvor, attended by about 700 people. Several dozen rally participants were detained, including Pivovarov and other prominent local opposition leaders.
Pivovarov and the RNDS are planning to appeal both of Wednesday's convictions. The organization began holding a series of protests outside of Pivovarov's detention facility that same day.
The RNDS is convinced that Pivovarov's sentence "was not based on the law" and is an attempt by the authorities to frighten the opposition.
"In my view, this is an extremely inappropriate measure," said Olga Kurnosova, head of the St. Petersburg branch of the United Civil Front. "I've already said multiple times that I don't understand in general why they detain people at Gostiny Dvor. Nothing happens there that violates the public order."
Activists participating in Strategy 31 rallies throughout Russia are routinely beaten and detained by the dozens.
"This measure is an act of intimidation," Kurnosova concluded.