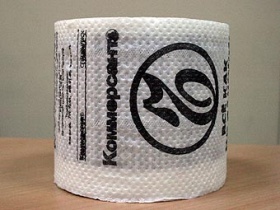 On the morning of March 6th, toilet paper bearing the logo of the Kommersant newspaper appeared in the toilets of Russia's lower house of Parliament, RIA Novosti reported. The business paper believes the move may be a provocation from the pro-Kremlin Nashi youth group.
The rolls of toilet paper, which feature a prominent image of the newspaper's logo as well as quotes from recent articles, turned up on every floor of the new State Duma building. Building management said they did not know who was responsible, and moved as quickly as they could to remove the offensive material.
Similar paper rolls appeared in Moscow on March 4th and 5th, when people posing as Kommersant employees began handing them out to pedestrians. The rolls have a printed letter-from-the-editor, which says the paper wants to "attract a new audience who gives a wide berth to the newspaper." Text on the rolls claims that 300 thousand copies have been printed.
Kommersant editors believe that the pro-Kremlin Nashi youth group may be responsible. A recent article claimed the group, known for its audacious and militant activities, was becoming an embarrassment and was being disbanded. While Nashi denied any involvement, the rolls of paper included the mobile phone number of the reporter who broke that story. Furthermore, a recently leaked email allegedly from Nashi's press-secretary, detailed ways that Kommersant should be punished: "Block their work. Psychologically and physically pester them. Revenge is essential." (source)
Kommersant has promised to prosecute those responsible to the fullest extent of the law.