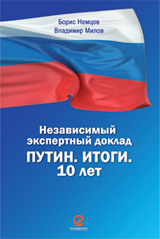 One thousand copies of the harshly critical opposition report "Putin. Results. 10 Years" have been confiscated by police in the northern city of Murmansk, Kasparov.ru reports.
Representatives of the Murmansk branch of the opposition movement Solidarity said that local police detained two activists when they attempted to transfer the report from a train to their vehicle. The two were sent to a local police station and told that the thousand copies were confiscated because Murmansk police suspected the report of constituting "extremist literature." The report will now undergo expert analysis for the presence of extremist content, said the police.
As of Wednesday evening, the two activists had been released.
The incident marks the second time Russian police have confiscated copies of "Putin. Results. 10 Years" under allegations of extremism. Police in St. Petersburg confiscated 200 thousand copies of the report under this pretense this past June, but released them two weeks later after an analysis came up empty.
Wanton charges of extremism are commonly used by Russian law enforcement agencies to apply pressure to opposition groups that carry out activities deemed undesirable by the state.
"Putin. Results. 10 Years" is a forty-eight page analysis of the actions and policies of Russia's former president and current prime minister, with topics ranging from corruption and crumbling infrastructure to population decline and the collapse of the pension system. The report's authors, former Deputy Prime Minister Boris Nemtsov and former Deputy Energy Minister Vladimir Milov, say they intend to distribute the document all over Russia, and have printed one million copies to that end. Police in various Russian cities have confiscated copies of the report on at least four separate occasions. The authors have issued a call for Russian citizens to print copies in samizdat fashion to distribute on their own.