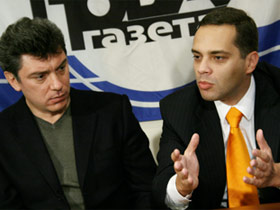 An opposition report critical of Russian Prime Minister Vladimir Putin has been officially declared to be free of extremism, according to Olga Kurnosova of the United Civil Front opposition movement.
A truckload of 100,000 copies of the report, "Putin. Results. 10 Years," were confiscated by St. Petersburg police on June 15, after the driver of the truck was reportedly found to lack the proper documents to bring a heavy cargo truck into the center of the city. Now, as of July 1, the activists working to distribute the self-published report have authorization to take the copies back, as no evidence of "extremism" had been found within their contents.
Meanwhile, a number of activists detained on June 18 for distributing the document on Vasilievsky Island, where the International Economic Forum was being held at the time, have been called in by police "for questioning," said Kurnosova.
Wanton charges of extremism are commonly used by Russian law enforcement agencies to apply pressure to opposition groups that carry out activities deemed undesirable by the state.
"Putin. Results. 10 Years" is a forty-eight page analysis of the actions and policies of the former president and current prime minister, with topics ranging from corruption and crumbling infrastructure to population decline and the collapse of the pension system. The report's authors, former Deputy Prime Minister Boris Nemtsov and former Deputy Energy Minister Vladimir Milov, say they intend to distribute the document all over Russia, and have printed one million copies to that end. However, aside from the 100,000 confiscated by St. Petersburg police and released yesterday, another 100,000 were taken by Federal Security Service agents on June 17. The authors have issued a call for Russian citizens to print copies in samizdat fashion to distribute on their own.