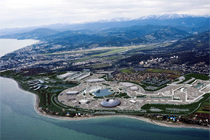 After 24 days, residents facing eviction from the city of Sochi's Imeretinskaya Valley have declared an end to their hunger strike.
The Caucasian Knot newspaper reported on Friday that the strikers have reached an agreement with the local authorities, who have promised to look into each individual case of eviction and deal with them accordingly.
A group of ten residents of the valley declared their hunger strike on May 19 to protest what they say is the unfair amount of compensation being offered to them in exchange for their property, which falls within the construction zone for the 2014 Winter Olympics. At least five of the strikers left the protest before Friday's deal was reached.
Approximately 700 families are being affected by the evictions, which will make way for a number of ice facilities
Human rights advocates, ecologists, geologists, and other experts have been unequivocal in denouncing the environmental damage and flagrant rights abuses that have occurred during the course of preparation for the Olympic Games in Sochi.