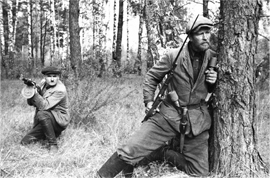 It has been more than a year since Russian Police Major Denis Yevsyukov's deadly shooting spree in a Moscow supermarket set off a storm of public anger against the country's police forces – a storm that hasn't let up since. While Russian President Dmitri Medvedev has proposed a series of reforms, critics say that nothing serious is being done to combat the ongoing corruption and lawlessness that plagues the country's law enforcement agencies.
Until now, public anger against the Russian police has manifested itself largely through public protests and online videos. But on May 27, a group dubbed by the Russian media as the "Primorskie Partisans" began a series of physical attacks on police officers. The group, whose name derives from the guerilla Soviet Partisans in World War II, reportedly distributed leaflets prior to the attacks calling for corrupt officials in the Russian Internal Ministry to be removed from their posts. According to an Ekho Moskvy poll, a majority of Russians are hailing the Partisans as "Robin Hoods."
On Thursday, the Komsomolskaya Pravda tabloid newspaper published a report, not officially verified, that police have been given an order to catch the Primorskie Partisans by June 12 – the Russia Day national holiday. On that day, says the paper, the group has supposedly promised to stage several attacks in large Russian cities. They also note that police have located several weapons caches that presumably belong to the Partisans, one of which included a sawed-off shotgun, grenades, ammunition, bulletproof armor, and a motor boat.
The group's alleged manifesto, which seems to only have been posted online in the last few days, is signed by the group's self-identified leader, 32-year-old Chechen War veteran Roman Muromtsev. It charges that there is a "global, behind-the-scenes" entity that is "creating terror on our land," and say that the Primorskie Partisans are "not criminals and not murderers," but "have taken up the battle against evil."
It also, however, says that it has taken up the battle "against Jewish fascism, as our glorious grandfathers and fathers took it up in 1941 against the German invaders," and reports indicate that the group has ties to nationalist and far-right organizations.
At the same time, the Investigative Committee of the Prosecutor General of Russia said on Thursday that Muromtsev was not a member of the Primorskie Partisans. Therefore, whether or not the manifesto actually represents the group's views is unclear.
The AFP provides a detailed account of the story:
Russia on Thursday captured one of a gang of anti-police youths whose deadly attacks on the security forces in its Far East Region have gripped the public imagination, investigators said.

The authorities have launched a massive manhunt for the gang, accused of killing one police official and wounding three in a series of brutal attacks in the far-flung region bordering China using knives and automatic weapons.

But in a country where the police are deeply unloved, they have still been dubbed by the media as "Robin Hoods", after the medieval outlaw of English folklore who robbed the rich and gave to the poor.

Over 71% of callers to the Echo of Moscow radio said the attackers were "Robin Hoods" compared to 29% who called them mere bandits, during a phone-in on Wednesday.

"As part of a special operation, police on June 10 detained a member of a criminal gang, suspected of attacking police," investigators said in a statement.

The gang of at least five men is suspected of three attacks on police, apparently motivated by a grudge against the force.

More than 150 police officials have been deployed in the manhunt in the Far Eastern Primorye region, a local security services source told the RIA Novosti news agency.

Russian television showed helicopters searching the forested region, while police in flak jackets set up road blocks to check cars.

Third attack

In a first attack on May 27, a police official was stabbed to death while on night duty. The attackers then ransacked the rural police station, stealing handcuffs and uniforms.

In the latest attack on Tuesday, the gang fired at two traffic police officials, wounding them. The attackers wore camouflage and wielded automatic weapons, according to Russian media.

The gang is also linked to third attack on a police car on May 29 that left one officer with gun shot wounds to his face.

Several of the gang have military training and one served in Chechnya, sources in the security services were cited by RIA Novosti as saying.

The public support for the gang underlines what critics say is near-daily abuse of office by the police forces, whose officers are regularly accused of violent crime and bribe-taking.

In November, the country's interior minister even stressed members of the public had the right to use self-defence against abusive police officers.

The father of one of the suspects blamed "the lawlessness of the Russian police" for the attacks, saying his 18-year-old son Roman has been severely beaten by police officers before he fled home.

Suffered

"They are all boys who have suffered at the hands of the police," Vladimir Savchenko said on Wednesday in a radio interview with the Russian News Service.

He named the police service of the Kirov district.

Media speculated over the reasons for the attacks.

Anonymous letters were sent in April to police, prosecutors, courts and some political parties in the region demanding that top police officials be fired and threatening a "partisan war," Kommersant reported.

The gang members also appeared to have links to nationalist groups and messages of support for their attacks appeared on far-right web sites. One of the suspects Alexander Sladkikh, 20, is known to be interested in Nazi ideology, Komsomolskaya Pravda reported, citing a local police official.

Two other suspects had been detained by police for beating up foreigners, Rossiiskaya Gazeta reported.

– AFP