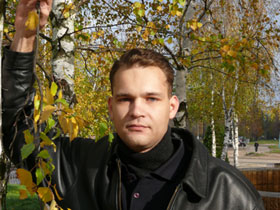 Tver, Russia, February 27th:
An activist of The Other Russia coalition has been released from a mental hospital in the Russian city of Tver. Roman Nikolaychik, a leader of the international ARES movement, was forced into compulsory medical treatment at the hospital at the beginning of February.
According to Nikolaychik, 27, he is still under surveillance. He was also forced to retire "of his own free will," from the local government office where he was employed prior to his hospitalization.
The ARES movement maintains that Nikolaychik was a victim of "punitive psychiatry," after false charges of attempted murder were levied against him.
Political pressure increased on Nikolaychik after he was chosen as a local candidate on the party list of The Other Russia coalition, and after he began taking an active role in opposition demonstrations knows as Dissenters' Marches. In total, he was held for close to four weeks in the Burshevo mental hospital in the Tver oblast. Some of the time was spent in solitary confinement.
Nikolaychik's imprisonment made him the latest victim of repressive means and punitive psychiatry used against Other Russia activists. Larisa Arap was held for 46 days after she published a critical article in the Murmansk oblast. Artem Basyrov, was hospitalized for over a month in the Mari-El Republic.
Alternate spelling: Roman Nikolaichik