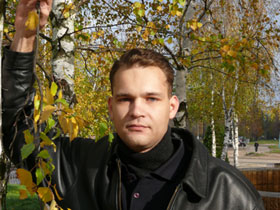 Tver, Russia, February 3rd:
Roman Nikolaychik, an activist from the Russian branch of the international ARES movement, has been sent to a psychiatric hospital without charges or explanation. According to Yevgeniy Svetovidov, the organization's Moscow press-secretary, Nikolaychik was apprehended on Friday, and has not been heard from since.
Svetovidov told Novaya Gazeta that Nikolaychik's telephone was not receiving calls. Family and friends have not been told which asylum he has been taken to.
The ARES movement is presently working to free the activist. Svetovidov noted that local law enforcement have been unresponsive, and have refused to provide any assistance.
In addition to his work with ARES, Nikolaychik is involved with The Other Russia coalition and has run for office to the State Duma as an opposition candidate.
A statement released by ARES noted that an unfounded criminal investigation for attempted murder had been mounted against Nikolaychik. The "victim" who brought forth the accusation tried to extort money from Nikolaychik, saying she would drop charges for a sum. The criminal investigator assigned to the case ignored several witnesses, who were with Nikolaychik and vouched that he was several kilometers away from the "crime scene."
"Seeing the obvious absurdity of the fabricated accusation, and anticipating that the case would simply fall apart, the security services decided to employ punitive psychiatry in relation to Nikolaychik, and he was sent for detention to a psychiatric clinic…" Svetovidov said.
"The current process has an obviously political nature, with Nikolaychik's political position and his involvement with The Other Russia coalition serving as its cause," the ARES statement reads.
According to the organization, Nikolaychik has been repeatedly detained and threatened with bodily harm from agents of Russia's security ministries, including the FSB and the Unit for Fighting Organized Crime (UBOP).