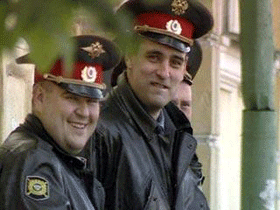 On the evening of February 22nd, an activist of the opposition United Civil Front party was detained by militsiya officers in St. Petersburg. Yury Asotov was handing out newspapers and spreading stickers advertising upcoming demonstrations knows as Dissenters' Marches. After he was released by law enforcement, Asotov walked into a nearby hospital emergency room. As the Sobkor®ru news agency reported, the activist was diagnosed with a concussion of the brain.
Asotov was just one of many opposition activists to be arrested in St. Petersburg. At least two organizers were held on February 23rd without charges after they were distributing literature. Olga Kurnosova, the leader of the St. Petersburg branch of the United Civil Front, commented that the actions from law enforcement were unwarranted and illegal, and that detentions and beatings were continuing.
On February 22nd, city authorities sanctioned a Dissenters' March to be held in St. Petersburg on March 3rd, with an amendment that changed the final end-point of the protest. They had initially refused to register the demonstration. Event organizers are prepared to agree to the new itinerary.
Dissenters' Marches will be held in St. Petersburg, Moscow and other Russian cities on March 3rd, one day after presidential elections are held. The primary slogans will be: "Down with autocracy and succession!", "All power to the Constituent Assembly!", "False-Dmitri out of the Kremlin!" The nationwide protest action will commemorate a historic day in Russian history, when the Romanov dynasty abdicated power to the Constituent Assembly in 1917.
"The systematic and widespread falsifications allowed in the December 2nd Parliamentary elections, and the designation of March 2nd as the formal date of power transfer from Vladimir Putin to Dmitri Medvedev violate the democratic foundation of the Russian Constitutional system," The Other Russia Coalition wrote in a statement.