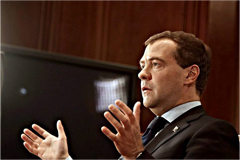 One of the most widely speculated-upon – and evasive – questions in Russian politics today is who's going to run in the 2012 presidential elections. When President Dmitri Medvedev took office in 2008, many experts believed that Prime Minister Vladimir Putin would take the reins back up in 2012 when he regained eligibility to run – if not earlier. Since then, the two have formed their so-called "tandem," with Medvedev as president but with Putin exercising far more power over the prime ministership than any of his predecessors have before.
But as the elections draw ever nearer, Medvedev's assumed withdrawal into the background is becoming harder to take for granted. In November 2009, Medvedev told the German newspaper Der Spiegel that "We will sit down and discuss which one of us is going to run in the election, so that we don't interfere with each other." Putin had said a few months earlier that the two would "come to an agreement because we are people of one blood and one set of political views," and the president has confirmed that the "one blood" sentiment is mutual.
But this past weekend was the first time, at least publically, that Medvedev has discussed the 2012 presidential elections without mentioning Putin at all. In an interview with the widely-circulated Norwegian newspaper Aftenposten, the president stated: "If it's going to be necessary for my country and so to preserve the course that's been formed in recent years (by which I refer to the period when Vladimir Putin was head of state and the period when I've been head of state), then I'm absolutely not ruling anything out for myself, including participating in this election." Similar comments have usually been hedged by at least a mention that the issue would be resolved jointly with the prime minister.
In addition, Medvedev said that several criteria would have to be fulfilled in order for him to run at all. "First of all, as a minimum, the results of my work must be acceptable to our citizens," he said. "And also, our efforts must be directed towards achieving a result, and not just participating [in the election]. So, we'll see."
With that last statement, Medvedev seems to be putting emphasis not only on the idea that he still may run, but that if he does, it's not going to be just for show. All that's certain for now, however, is that experts will continue debating whether or not he really means it.