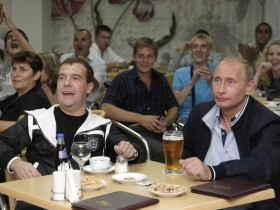 Russian President Dmitri Medvedev has clarified a statement made by Prime Minister Vladimir Putin concerning the future Russian presidential election in 2012.
In an interview with the German newspaper Der Spiegel, Medvedev stated that "He [Putin] said only the following: if at the moment of the next presidential election Vladimir Putin and Dmitri Medvedev are still attractive to the population as political figures, then in that case we will sit down and discuss which one of us is going to run in the election – so that we don't interfere with each other. He did not claim that we would determine between ourselves who the next president will be. That," Medvedev continued, "would be funny."
When the prime minister was asked this past September if he would compete with President Medvedev in the 2012 elections, he responded that "We will come to an agreement because we are people of one blood and of one political view." The president later said in an interview with Swiss media that he agreed that he and Vladimir Putin were of "one blood."
Medvedev additionally said that the "tandem" between he and the prime minister "works consistently enough," and that quarrels about their shared political figures are unjustified. "I would like at some point for us to be perceived as the elderly leaders of the Politburo of the Communist Party of the USSR, who went to [Lenin's] mausoleum in identical coats and it was impossible to tell which one was Leonid Ilyich [Brezhnev] and who was Mikhail Andreyevich [Suslov]," he added.
Critics of the Kremlin fear that the two leaders are perpetuating an undemocratic and authoritarian regime. Last November, Russia's parliament voted to extend the presidential term from four years to six, without affecting the length of Medvedev's current term, which expires at the beginning of 2012. Vladimir Ryzhkov, a Kremlin opponent and former Duma deputy who lost his seat when he was banned from participating in elections, said the ruling regime has now amassed more power than even the tsars. "The tsar was constrained by the aristocracy. The party bureaucracy controlled the general secretary. Today the president controls parliament, the senate, regions, the bureaucracy and the security services, as well as oil and gas," he says.