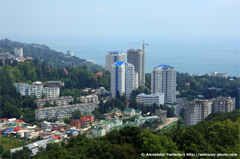 As the Black Sea city of Sochi continues preparations for the 2014 Winter Olympics, experts are warning of rampant ecological damage, dangerously low-quality construction, rights violations against evicted residents, and an unresponsive organizational bureaucracy. But while the mayor of neighboring Krasnaya Polyana considers resigning in protest, the mayor of Sochi has been more focused on giving the city what can only be described as a Soviet-inspired makeover.
"We are bringing the city to a unified architectural look, and therefore, our roofs and fences must be identical," said Mayor Anatoly Pakhomov at a session of the city administration on Tuesday.
To that end, the mayor ordered all private home owners to paint their roofs red. "All of the roofs must be red, and not blue," he said, without clarifying what was wrong with blue.
Since winning the bid to hold the Olympics in June 2007, the Russian government has hoped to use Games to develop Sochi into an international resort destination. Up until now, vacationers in the coastal city have consisted almost exclusively of Russians, particularly high-ranking bureaucrats during the Soviet era. That Sochi will suddenly be facing a global audience seems to have motivated the mayor to reform his city's aesthetic, for better or worse.
"This is Sochi – an Olympic capital, a world resort, and therefore there are large demands," he said at the session.
In the same vein, Pakhomov proposed erecting "Boards of Shame" as part of the city's ongoing battle against violations of public order. Billboards stationed throughout the city would feature photographs of litter heaps and cars parked in front of bus stops, as well as pictures of merchants who sell alcohol and tobacco to minors. While such displays were a common method of public shaming in Soviet times, they have since become a rarity in most parts of the country.
Anatoly Pakhomov, a member of Prime Minister Vladimir Putin's leading United Russia party, was reelected to his post last April amidst numerous accusations of voter fraud. The runner-up, former Deputy Prime Minister and Putin critic Boris Nemtsov, would have posed a significant threat to the Kremlin's control over preparations for the Olympic Games if he had been elected.