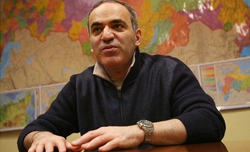 In a trip to Georgia earlier this week, Russian chess grandmaster and opposition leader Garry Kasparov spoke with Georgian journalists and government leadership about chess, plans for the Sochi Olympics, and the state of Russia-Georgia relations.
Primarily, Kasparov travelled to Georgia for the 50th birthday of longtime friend and chess colleague Zurab Azmaiparashvili. The grandmaster stressed that his visit to Tbilisi was "not as a representative of the opposition, but as a chess player." Given that, "it's perfectly obvious that I don't plan to turn down a meeting with the Georgian leadership," said Kasparov. "I see nothing shameful in that."
Kasparov met with Georgian President Mikheil Saakashvili on Tuesday at the presidential palace, where the two discussed Russia-Georgia relations and a forthcoming youth chess world championship to be held in Georgia this September. He also met on Wednesday with Speaker of Parliament David Bakradze to talk about the two countries' relations.
Speaking with journalists afterward, Kasparov said that all that had transpired between the Georgia and Russia in recent years "is more than the mind can comprehend." While relations severely deteriorated after the August 2008 military conflict in South Ossetia, Kasparov asserted that Russia had begun a campaign against Georgia long before.
"The eviction of Georgians, the embargo on Georgian goods – this was all part of a plan," said Kasparov, adding that the conflict in August "had been predetermined."
Kasparov expressed concern that Georgian opposition leaders had recently met with members of the Russian government, saying that there was nothing to be gained through negotiations while Prime Minister Vladimir Putin remained in power. "There are some things that will not change under Putin," said Kasparov, citing as examples the imprisonment of oligarch Mikhail Khodorkovsky and Russia's presence in South Ossetia and Abkhazia. "While Putin is in the Kremlin, there cannot be any improvement in relations between Georgia and Russia," he asserted.
That said, Kasparov was confident that no new military conflict between the two countries was on the horizon, albeit for all the wrong reasons. Referring to plans for the 2014 Winter Olympics in Sochi, Kasparov said that "while Putin is building Sochi, there won't be any war." Given that Sochi lies just north of Abkhazia on the Black Sea, he explained, having a base there had always been necessary for the Russian government's ability to organize construction for the games.
Kasparov noted that many Russians were critical of their government for its aggressive political stance towards Georgia, and stressed the importance of creating cultural contacts between citizens and civic organizations of the two countries. Referring to his own experiences in Georgia as a chess player, Kasparov explained that Russia-Georgia relations were a particularly painful topic for him. "I have many special memories connected with Tbilisi," he said.