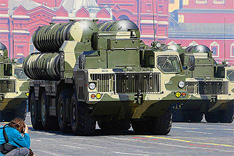 Despite statements earlier this week supporting a new round of sanctions on Iran, the Russian Foreign Ministry continues to oppose "crippling sanctions" against the country and intends to go through with a deal to provide it with S-300 anti-aircraft systems, Interfax reports.
According to Deputy Foreign Minister Sergei Ryabkov, "the term 'paralyzing sanctions' is, of course, something we completely refuse to accept. Sanctions should follow the aim of strengthening the state of nuclear nonproliferation."
The minister stressed that sanctions cannot be interpreted as something to be used to punish an entire country and its people.
When questioned about Russia's plans to sell Iran their S-300 anti-aircraft missile system, Ryabkov said that a contract is already in place and Russia intends to fulfill it.
Israeli Prime Minister Benjamin Netanyahu expressly asked that Russia scrap plans to sell the system to Iran in a meeting with Russian President Dmitri Medvedev earlier this week, fearing that the system could help Iran stave off any possible attacks from Israel or the United States on its nuclear facilities.
Ryabkov said that recent delays in delivering the system were due to "technical problems" and dismissed questions regarding the two countries partnership on military technology as politically motivated.
Russian Foreign Minister Sergei Lavrov had said earlier on Friday that Iran's failure to cooperate with the international community on its nuclear program was "very alarming." In an interview on Ekho Moskvy radio, Lavrov emphasized the importance of Russia's relationship with Iran as a "close neighbor" and a "partner," saying that what happens in Iran "concerns both our economic interests and our interests in regards to security."
Lavrov also issued what, given Ryabkov's later statement, appears to have been a serious caveat: "I don't think that we [the United States and Russia] have a united position [on Iran], because for both the United States and for us – and this is a position where we agree – it is of principle importance to prevent violations of the state of nuclear nonproliferation. This, most definitely, is our common, united position. However," he continued, "we do not agree one hundred percent on the methods for its realization."