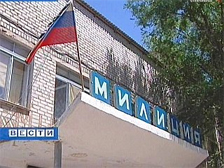 The unlawful detention of three human rights advocates in Chechnya over the weekend is drawing severe criticism from international rights organizations, reports Kasparov.ru.
In a statement on Tuesday, Director Holly Cartner of Human Rights Watch in Europe and Central Asia said that the baseless detention of lawyers Dmitri Egoshin, Roman Veretennikov and Vadislav Sadykov of the Joint Mobile Group of Russian Non-Governmental Organizations should be properly investigated by the Russian authorities.
The three lawyers were detained without charge by regional Chechen security forces on February 7. After being illegally held for 15 hours, they were released on February 8 with no explanation of the basis for their detention. Security officials destroyed tape recordings confiscated from the rights advocates, who fear that their offices may also have been raided.
Cartner stressed the importance of bringing the offending officers to responsibility and of assuring safe working conditions for human rights advocates in Chechnya and the other volatile republics in Russia's North Caucasus.
Referring to a January 23 statement by Russian Prime Minister Vladimir Putin, Cartner said that "this arbitrary detention clearly demonstrates that the Chechen law enforcement agencies continue harassing human rights defenders despite Prime Minister Putin's recent call for a healthy working environment for human rights groups."
The rights organizations Amnesty International, Civil Rights Defenders and Front Line also issued statements condemning the incident.
The three detained lawyers meanwhile plan to file charges against the security officers in court.
The incident is a disturbing reminder of last year's increase in violent persecution of human rights workers in the North Caucasus. Natalia Estemirova of the Memorial human rights organization was kidnapped and murdered in Chechnya in July, leading the organization to close its operations in the area. One month later, charity workers Zarema Sadulaeva and Umar Dzhabrailov were found dead in their car in the Chechen capital of Grozny. Domestic and international human rights groups have continually blamed the Russian authorities for allowing continued violence to endanger activists and reporters in the volatile area.