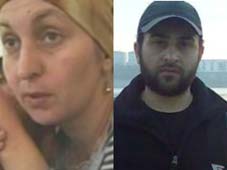 The Moscow Helsinki Group has released a statement on the tragic murders of Zarema Sadulaeva and her husband Umar Dzhabrailov, who were found dead in Chechnya on Tuesday. The kidnapping and murder of two charity workers continues a series of violent crimes against rights activists and journalists in the region, including the killings of reporters Natalia Estemirova and Malik Akhmedilov. The escalating violence has prompted the independent Novaya Gazeta newspaper and other organizations to cease regional operations, putting a strain on continuing charity work and independent reporting from Chechnya.
—

Stop the Terror!
August 11, 2009
Statement by the Moscow Helsinki Group
Reports about the death of our colleagues are becoming a tragic routine. Today, we found out about the murder of Zarema Sadulaeva and her husband Umar Dzhabrailov, activists from "Save the Generation" non-governmental organization, who were kidnapped in Grozny the day before. They dedicated themselves to helping victims of an unreported war, including handicapped children injured by land mines. This murder became the latest proof of the authorities' inability to provide elementary security for its citizens and yet another reminder of how high the cost of fighting for justice can be.
We classify what has happened as an extrajudicial execution.
We demand an end to the terror unleashed against civic activists and peaceful citizens in the North Caucasus. The circumstances surrounding cases of kidnapping and murder, which have become more frequent in recent times, provide a basis to say that federal and regional authorities exhibit a criminal inaction.
We call on authorities to make an effort to end terror; to track down and punish criminals.
On our part, we pledge that we will not stop the battle for dignity and human rights in any part of the country, including the North Caucasus.
Sooner of later, those who murder civic activists and their patrons will face a just and lawful retribution.
We will do everything possible for this.
August 11, 2009
Lyudmila Alexeyeva, Chair of the Moscow Helsinki Group
Lev Ponomarev, Member of the Moscow Helsinki Group, Executive Director of the For Human Rights Movement
Minister Gleb Yakunin, member of the Moscow Helsinki Group, Public Committee for the Protection of Freedom of Conscience
The declaration has also been backed by:
Yury Samodurov, exhibit curator
Ernst Cherniy, Public Committee for the Protection of Scientists
Lyubov Bashinova, journalist, human rights activist
Yevgeny Ikhlov, journalist, human rights activist
Andrei Naletov, Committee for Anti-war Actions
translation by theotherrussia.org