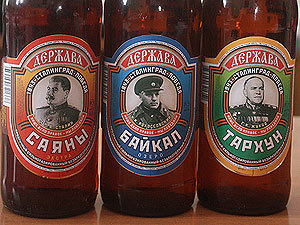 A beverage plant in the Russian city of Volgograd is releasing a series of soft drinks picturing Josef Stalin and other World War II commanders, Komsomolskaya Pravda newspaper reported on Wednesday.
The drinks are being released in honor of the 67th anniversary of the pivotal Battle of Stalingrad, the Soviet-era name for Volgograd, and will appear in Volgograd stores in early February. A second release of the drinks is set to coincide with the May 9 Victory Day celebrations, with this year marking the 65th anniversary of the end of World War II.
The three soft drinks in the series feature portraits of Stalin, Marshal Gregory Zhukov, and Marshal Konstantin Rokossovksy, and are flanked with the phrase "Our cause is right – We have triumphed."
An estimated 30 million people died as a result of Stalinist repressions and widespread famine in the 1930s and 40s.
Boris Izgarshev, director of the Pivovar plant producing the beverages, saw nothing wrong with putting Stalin's picture on a lemon-flavored soft drink. "There's nothing bad here: all three military commanders are significant historical figures…the name of each one is connected with the Volgograd soil."
"Of course, we expect there to be a negative wave from social organizations and some veterans, but time will tell. I think that there will be a demand to have these drinks," he added.
Stanislav Gorokhov, chairman of the Volgograd City Council for Military Veterans, spoke out passionately against the product.
"Before such a reckless step was taken, they should have interviewed the veterans," Gorokhov insisted. "Really, every one of us has known much sorrow from those times. We think that we have the right to vote. Alright, Zhukov and Rokossovsky, but Stalin – that's excessive."
"Yes, he was chief in command, and the country won against the Germans under his command," he went on. "But what a feeling the veterans will have who unjustly suffered from the Stalinist repressions! Who sat for years in the camps! And the families, who were deprived by his fault of their relatives and close ones? Veterans will be torn over this novelty, but we are in favor of stability. And we will never support those who drive a wedge between generations through such actions."
Volgograd Regional Duma Deputy Andrei Popkov shared no such misgivings. "There's nothing bad here," he told the newspaper. "I think that far from all veterans are hostile towards this novelty; really, they lived through a whole epoch with Stalin. And there's another plus – in the battle for the market, all means are good ones. And here's just a superfluous advertisement that doesn't harm anyone."
"I mean, there's vodka named Putinka, and that's no problem," the deputy added.
Russian society is largely fractured in its reconciliation of Stalin as a war hero and Stalin as a ruthless dictator. In 2007, then-President Vladimir Putin mandated a revised school history textbook that called Stalin "the most successful Soviet leader ever" and lauds his qualities as a "great organizer." President Dmitri Medvedev condemned the dictator in a speech last October, but Putin spoke out in the leader's defense several weeks later in a live telecast, arguing that the question of Stalin was a "subtle" one. A 2009 poll indicated that nearly a third of Russians would like to see a Stalin-like leader as their head of state. At the same time, this number is down from recent years – 42 percent favored a Stalin-like leader in 2005.