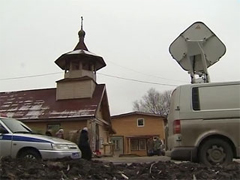 A Moscow priest who was close friends with a recently murdered priest was attacked prior to an evening service over the weekend, Interfax reported on Sunday.
Vitaly Zubkov of the Cathedral of St. Thomas the Apostle says he was approached by three unknown men on Saturday around 4 pm. The men then began to beat him, not saying a word, and as a result Zubkov received a broken femur and nearly lost consciousness.
Despite being barely able to walk, Father Vitaly held his service that evening.
No reaction from law enforcement agencies is currently known. Zubkov currently intends to inform the police of the incident.
Zubkov was close friends with Father Daniil Sysoev, who was attacked on November 19 in Moscow and later died in the hospital.
Both he and the head of the Moscow Union of Russian Orthodox Citizens believe that the two incidents are connected. Both priests, Zubkov told RIA Novosti, participated in missionary work.
Investigators believe that Sysoev was shot by members of Rodnoverie, a religious sect that follows Slavic Neopaganism, according to Interfax.