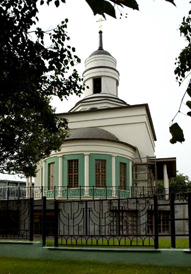 A police captain has been found dead outside of a cathedral in Moscow, having allegedly shot himself in the head, reports Interfax.
According to law enforcement agencies, guards at St. Nikolai's Cathedral heard a gunshot on Saturday. A member of the parish walking around the perimeter of the cathedral then found the uniformed body of police captain Aleksei Nevsky in a vehicle parked nearby.
The deceased officer was found with a pistol in his hand and a suicide note.
Authorities have chosen not to disclose the contents of the note in order not to interfere with the investigation, which is not ruling out the possibility that Nevsky was murdered.
The incident marks the latest in a growing number of police suicides in Russia at a time of increased criticism of the country's law enforcement agencies. Including Nevsky, at least Russian five cops have committed suicide in the past three weeks, two of which were also double murders.
Media attention to problems with the police, which have long plagued Russia, was renewed in April when police chief Denis Yevsyukov killed three people and wounded six in a Moscow supermarket while drunk. Following a slew of recent high-profile incidents of police abuse, Novorossiysky Major Aleksei Dymovsky drew unprecedented media attention in November when he posted two YouTube videos of himself discussing corruption that he had witnessed in the police force.