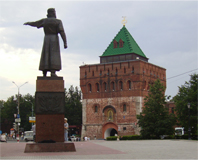 A "funeral for democracy" was held by activists in Nizhny Novgorod on Wednesday in mourning of the loss of the popular vote as a means to elect the mayor, according to a report by Uralpolit.ru.
Members of the regional branch of the Kremlin-backed liberal democratic party Right Cause congregated at the entrance to the city Kremlin wearing funeral insignia and armed with candy, which they distributed to passers-by in order to commemorate the now-deceased period of democracy.
Branch leader Denis Labuza released a bundle of balloons emblazoned with "democracy" into the sky, saying that if election of the mayor by popular vote was cut out of the city charter, it would be a sign that city officials do take into consideration the voice of the people.
The "funeral" was prompted by a session of the city duma that same day that introduced a change to the city charter, earlier proposed by the major. Instead of election by popular vote, the mayor will be now be chosen by a selection of deputies, and the leader of the city administration will be hired by contract.
During a meeting with opposition leaders to discuss a set of fraudulent regional elections in October, Russian President Dmitri Medvedev asked that participants not turn the meeting into a "funeral" for democracy. "I intentionally dressed darkly today," the president said, "thinking that, who knows, you all might be in the mood for a funeral."