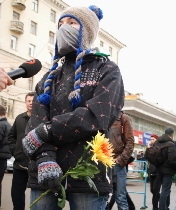 A group of anti-fascist activists were forced to abandon plans to hold a rally in honor of murdered anti-fascist Ivan Khutorskoy on November 22 in central Moscow, said organizer Maksim Stepanov in an interview with Ekho Moskvy.
According to Stepanov, the activists were unable to obtain sanction from city authorities to hold the rally.
Representatives of the anti-fascist youth movement were divided as to what action to take in response. Part of the group chose to place flowers in memory of Khutorskoy at the eternal flame outside of the Kremlin walls, while others chose to attempt to rally at Patriarshiye Prudy as planned.
A correspondent from Kasparov.ru reports that police temporarily detained a number of the sixty rallying activists.
Executive Director of the For Human Rights movement Lev Ponomarev was present at the rally as a human rights advocate and public observer. Ponomarev aided in negotiations between the activists and police, thanking the activists for finding a compromise with the officers to avoid creating a violent situation.
Ivan Khutorskoy was shot and killed in the entrance to his Moscow apartment building on the evening of November 16. Prior to the murder, four attempts had been made on his life. His death was the latest in the recent rise in crimes against anti-fascist activists in Russia.
Two ultra-nationalist rallies totaling nearly 3000 people were held in Moscow during the November 4 Unity Day celebrations. Many participants carried Nazi flags and placards with racist slurs, and one rally featured a concert by two openly neo-Nazi bands. Both rallies were sanctioned by city authorities.