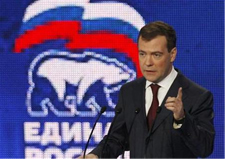 Members of the Kremlin-backed United Russia party are confusing democratic procedures with administrative ones and are reducing their political activities to games, said Russian President Dmitri Medvedev in a speech to the United Russia Party Congress in St. Petersburg on Saturday.
During his remarks, which were largely spent praising the party for its handling of the economic crisis, Medvedev told the congregation that since "practically all our government elite are in your ranks," United Russia has "great responsibilities" and could only achieve positive change if the party changed itself.
"Unfortunately, some regional representatives of both United Russia and other parties sometimes show signs of backwardness, and reduce their political activities to intrigue and games," Medvedev said. "Elections are intended to be an expression of the popular will, a contest of ideas and programs, but in result sometimes turn into the types of affairs where democratic procedures are confused with administrative ones."
He added that "We must get rid of these people and, as a matter of fact, these bad political habits as well," and expressed certainty that United Russia could do without such "administrative excesses."
In an apparent reference to recent fraudulent elections, the president stressed that democracy is for the people, not the party, and that "We all need to learn how to win in an open fight."
The speech concluded, however, with an optimistic remark concerning amendments to the party's charter, which would introduce a primary system during elections and require the participation of representatives from various parties in pre-election debates. "These are good ideas," Medvedev said, "a sign that United Russia has absolutely chosen the right road for itself."
Party members listening to the speech responded with polite applause.
Regional elections on October 11 delivered sweeping wins for United Russia across the country, continuing the political monopoly it has held since its conception in 2001. Observers noted massive electoral violations, including ballot stuffing and multiple voting with the same absentee ballot, much of which has been statistically documented. Medvedev himself has admitted that the elections were flawed.
A full English transcript of the speech can be found by clicking here.
A video of the speech in Russian can be seen be clicking here.