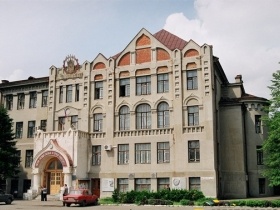 A campaign has been launched to expel students participating in political activism from Omsk State University, according to a report by Newsru.com. Administrators at the university have drawn up a list of twelve "extremists" and have designated class time to discuss counter measures against them. The report further alleges that the administration is acting under clandestine orders from police.
Included on the list are three students who are members of the youth division of the Yabloko opposition party. Other students listed had been actively complaining about the quality of food in the university cafeteria.
One of the enumerated students is Aleksandr Shurshev, leader of the Omsk regional youth division of Yabloko. Shurshev wrote on his blog that on November 3, an urgent session was called that included the Omsk State University (OmGU) teachers union, the university rector, and two law enforcement officials. At the meeting, Shurshev asserted, the list of "extremist" students was read aloud, and those present were told that association with these students was "undesirable: they are dangerous, connected with extremism" and "need to be expelled."
Irina Belokon, head of the OmGU teachers union, claimed in a comment to Kasparov.ru that there were no law enforcement representatives at the meeting. She explained pressure on students in the following statement: "They came to the university to study and shouldn't forget that that's their basic responsibility." However, Sergei Kostarev, head of the Omsk regional division of Yabloko and a political science teacher at OmGU, noted that students on the list "do not have problems with studies and none of their teachers expressed complaints about the quality of their knowledge."
Close relatives and friends of the twelve students say that they periodically receive phone calls from people claiming to be from the police, saying that serious hardships await the students if they don't stop their political activities.
The campaign in Omsk is not the first time Russian police have pressured universities to expel student protesters. In January, the Moscow Department of Internal Affairs sent a letter to the provost of the Higher School of Economics encouraging him to expel students arrested in the opposition March of Dissent.