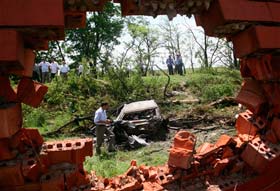 Journalist Yulia Latynina comments on the assassination attempt against Yunus-Bek Yevkurov, the president of the Republic of Ingushetia.  Yevkurov, 45, is in serious condition, with a concussion and broken ribs, after a suicide bomber attacked his motorcade.  Two bodyguards were killed in the explosion.
The attack is a bloody reminder that violence continues unabated in Russia's North Caucasus region.  Yevkurov, a former military intelligence officer, has served as president since October 2008, when the former President, Murat Zyazikov, was dismissed by the Kremlin.  Ingushetia had seen a gradual escalation of armed insurgency under Zyazikov's six years in office, and Yevkurov was seen as a reformer intent on reining in heavy-handed police units and stabilizing the republic.
Latynina's comments first appeared on the Grani.ru online newspaper (Rus).
Yulia Latynina:
What happened can be considered the start of the militants' summer campaign.  This is a sign that [Yunus-Bek] Yevkurov represents a serious threat to the militants.  That he is actually fighting them.  And he is simultaneously fighting them on three fronts: first – he is actually rooting out corruption, which is also a resource base for the militants, because all of [Murat] Zyazikov's officials paid the militants.  This isn't a rumor, this isn't libel, this is what the officials themselves admitted in the mosques when Zyazikov was dismissed.  They spread their arms and said: yes, we paid, or we would have been killed.
It is worth understanding that to be a militant in Ingushetia is a fairly lucrative business;  not so lucrative, of course, as robbing the budget, but lucrative enough.  So that besides Allah's work, there are completely concrete material concerns and completely concrete problems that arise for the militants when their resource base dries up because of President Yevkurov.
Second: Yevkurov is actually hitting the militants with precision strikes.  Unlike the previous situation, when the siloviki said they hit a militant whenever they shot at anyone.  Now, one can only say that when Yevkurov travels out of Ingushetia, the siloviki just might shoot the wrong person: when the cat is away, the mice will play.  But Yevkurov strictly controls all operations, and I have a hard time remembering an incident where a person not connected with the militants was killed in the past two months.
Third: negotiations were held with the militants, explaining that those with the desire to could either return to a peaceful life or leave.  Clearly, neither the militant leadership nor the siloviki are happy with this.  It is hard to say who is less happy as result.  I'd like to mention an episode, from when the assassination attempts on Yevkurov began – in December 2008, when Yevkurov was supposed to meet with a person names Magomed Aushev – the right-hand man of the Ingush militants from [the city of] Magas.  This was preceded by other meetings between Yevkurov and militants or their representatives.  He went to these meetings either alone or with his brother – such is the man's withdrawn courage, because it's clear that the militants could simply shoot him.  He was supposed to meet, as far as I know, with Magomed Aushev.  Intensive radio traffic started in connection with this, because Aushev was believed dead, but in actual fact was hiding in Barsuki.  And during the meeting with the president, the siloviki took him out.  And literally a month and a half afterwards, three militants entered Ingushetia with a ton of explosives, to arrange for a major terrorist attack.  By all appearances, they planned to blow up the president along with everyone else.  They were discovered by accident.
Yevkurov is actually fighting the militants extremely actively, which is much more complicated for him that for [Chechen President Ramzan Kadyrov].  Because Kadyrov is a person who knows all the militants, and can say: "Guys, that's it.  Why don't you work for me once again."  Yevkurov can't say this.  Furthermore, Kadyrov was up against militants who fought for Chechnya's freedom, while Yevkurov is up against Wahhabis, who are fighting in exultation of Allah.  It really is much harder for him.  Aside from militants, Yevkurov must somehow restrain the appetites of the Russian siloviki, who are completely discontent when they are forced to work on dangerous tactical goals instead of receiving stars for mass murder.
Under these conditions, Yevkurov, in my opinion, did much more for Ingushetia that could have been expected.  Much less than is needed, because there is an extremely neglected situation there, but more than could be expected.
translation by theotherrussia.org