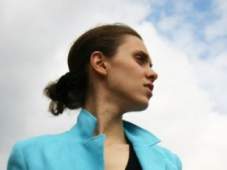 Konstantin Romodanovsky, the director of Russia's Federal Migration Service (FMS), was not up to date on the situation with Natalya Morar, a journalist from "The New Times" magazine who was illegally expelled from the country. At a December 18th press-conference in Moscow, Romodanovsky was unprepared to answer reporter's questions on why Morar was deported.
According to the agency head, the FMS was not responsible or involved in Morar's expulsion, and does not have authority over such matters. Romodanovsky bowed to other branches of the government, and indicated that such jurisdiction is reserved for the Federal Security Service (FSB).
Morar, who was turned away from a Moscow airport on December 16th, held documents issued by the FMS, including official registration papers and permission to work in Russia. She resides and works in Moscow, and received a diploma from Moscow State University. On her way back from a business trip to Israel, Morar was forced to return to her native Moldova.
Romodanovsky was unwilling to comment on the decision of his colleagues, but did not defend the FSB's move. He told journalists: "Surely you can read between the lines and listen between the words."
The Russian embassy in Moldova was also unaware of any official reason for deporting Morar. Like Romodanovsky, they learned about the incident from the mass-media, and commented that all of Morar's papers were in order.
The journalist's colleagues believe that she was pushed out for her investigative writing in the magazine, which put a magnifying glass to corruption among Russia's bureaucracy and elite. Her most recent article described a "slush fund" used by the Kremlin to fund and control most of the political parties involved in the December 2nd State Duma elections.
The Other Russia released a statement denouncing the expulsion, and called on the Prosecutor General's Office as well as the Central Electoral Commission to launch an investigation.