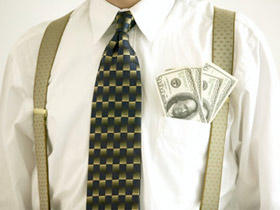 At the close of the State Duma elections, the Union of Right Forces (SPS), one of Russia's best known liberal political parties, is on the verge of bankruptcy. As the Kommersant newspaper reported on December 15th, the party was forced to sell its main office building in the fall in order to raise money at the height of the electoral campaign. According to a source within the organization, the party is now renting the office space, although skyrocketing prices may soon force it to relocate.
Yet the sale of party headquarters was apparently not enough to solve the SPS financial problems. Kommersant's source claims that the party owes "millions of dollars." Before the December 2nd election, each party turned in a 60 million ruble deposit to the Central Electoral Commission. Since SPS received less than four percent of votes, the Commission will not return its deposit. SPS will also be forced to repay some 60 to 90 million rubles for the free air-time and campaign ads that ran in state-owned media. According to recently updated electoral laws, political parties are granted the right to free advertising, but must pay for it if they gather less than two percent of votes.
The Union has also lost State funding as result of its poor showing in the election. Parties that win more than 3 percent of the vote are entitled to a yearly payment of five rubles per vote received. From 2004 to 2007, SPS was issued 12 million rubles from the government budget.
The Union of Right forces has been forced to take drastic measures, including selling off assets, to repay loans. Boris Nadezhdin, a State Duma representative and member of the party's advisory committee, mortgaged his personal office in the town of Dolgoprudny, and sold two cars. He used the money to pay his campaign staff. Leonid Gozman and Boris Nemtsov, two SPS front men, also admitted to Kommersant that they used personal finances to partially pay for the campaign.
SPS and Yabloko, two of Russia's most prominent liberal parties, were some of the biggest losers in the December 2nd election. According to official counts, SPS took only 0.96 percent. In order to retain seats in the Parliament, the party needed a minimum of seven percent.
Several political parties, including SPS and Yabloko, have denounced the Parliamentary elections as flawed and illegitimate. Theotherrussia.org has chronicled some methods of abuse, including ballot stuffing and using absentee ballots. Statistical evidence has also shown that results in a number of districts were likely faked.