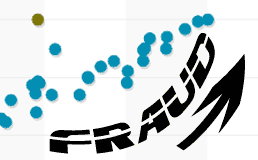 The December 2 parliamentary elections in Russia left a trail of intimidation and fraud across the entire country on behalf of Vladimir Putin's ruling United Russia party. Observers witnessed bus-loads of voters moved from one polling station to another and a now-infamous video captured poll workers feeding stacks of ballots into processing machines that are only supposed to be accessed by voters. Many of the results were beyond belief, with voter turnout over 99% in parts of the Caucasus where the polling stations were seen to be empty.
Now the forces of statistical analysis have added to the preponderance of evidence that the elections were little more than a sham. Several studies have shown that the higher the turnout of a district, the greater the margin of victory for United Russia. That is, there is an overwhelming positive correlation between turnout and percentage of votes for United Russia. Similarly, the higher the turnout, the lower the percentage of spoiled ballots, a number which should be random and roughly constant. The obvious explanation is also the only possible explanation: ballot stuffing on a massive scale. Below is one graph from an independent site, showing the correlation between voter turnout and percentage of votes for United Russia. It reaches all the way up to nearly 100% on both counts, itself an absurdity.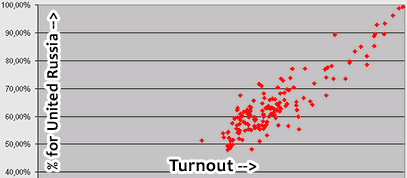 Nearly every turnout result of over the norm of 50-55% shows that almost every additional vote went to United Russia. No explanation has even been attempted by the Kremlin spokespeople who attempted to rationalize a 99.5% turnout for Putin in Chechnya.
The reaction of the leading western nations to such blatant fraud was stronger than their usual weak expressions of "concern" regarding the extinguishing of the democratic flame by the Putin regime. There has been little in the way of action, however, or even the suggestion of action. Russia's continued and unchallenged presence in the Group of Eight (G-8) major industrial democracies remains a mystery.