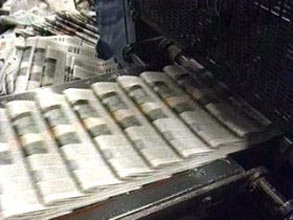 On the night of December 6th, websites for three opposition newspapers suddenly stopped working. The editors of "Noviy Peterburg" (New Petersburg), "Duel" and "Moskovskiye Vorota" (Moscow's Gates) believe they were shut-down as result of their opposition views.
"We are convinced that the pressure on the newspaper wasn't a one-time action before the 'Dissenter's Marches.' The authorities are dead-set on destroying the publication," commented Alevtina Ageeva, the director of the "Noviy Peterburg" publishing house.
According to Ageeva, the authorities squeezed her paper's internet provider, under the pretense that the "website was not registered." "We consulted with Rosokhrankultura [the Federal agency which regulates mass media]," she said, "and found out that no such registration is required."
"Noviy Peterburg" has already received one official warning for publishing "extremist material," an accusation frequently targeted at opponents of the Kremlin. A second warning would shut down the publication.
Pressure from above began in the run-up to recent opposition demonstrations known as "Dissenters' Marches," and the December 2nd State Duma elections. The marches took place on November 24th and 25th in Moscow and St. Petersburg, respectively.
On November 23rd, the editorial offices of "Noviy Peterburg" were raided and searched. The previous day, the paper never went out to readers because of materials discussing the upcoming protest. The St. Petersburg newspaper facility, which has published the paper for 17 years, told editors that it couldn't print the journal on that day "in connection with over-congestion." The paper's co-founder, Nikolai Andruschenko, had written an article titled "Why I'm going to the 'Dissenter's March." On the day of the march, he was arrested in his home for "calling for extremist activities."
On November 20th, a Moscow district court revoked "Duel's" registration, after a search by Rosokhrankultura found that the publication "called for the implementation of extremist activities."
As of December 9th, two of the websites once again live, and only "Moskovskiye Vorota" remained offline.