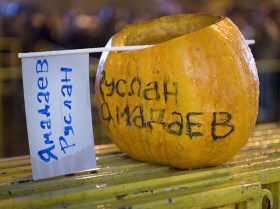 Thousands of youths gathered Sunday outside the American embassy in Moscow, blocking traffic in a vigil for what they called the victims of America.
Media reports said the protest, organized by the Kremlin-backed Nashi youth movement, drew around 10,000 people. Nashi, meanwhile, said the turnout was 20,000, while eye-witness observers described it as low as 3,000.
Kristina Potupchik, the Nashi press-secretary, explained the aims of the demonstration in an earlier press release: "On November 2nd we will take stock of Halloween, the American 'holiday of hell.' Ten thousand of our activists will gather by the US embassy to explain that American politics, American elections with a budget of 5 billion dollars, [John] McCain's rating, the world-wide economic crisis– all these American amusements are paid for with the lives of thousands."
Demonstrators wrote the names of the so-called victims of "everything that America had brought on the world" on thousands of pumpkins and small American flags, and lit candles in the winter squash. One observer noted the name of influential Chechen clan leader Ruslan Yamadayev on one pumpkin. Yamadayev, a former delegate in the State Duma, was killed in an unsolved shooting in September.
To make room for the event, officers of the militsiya and the OMON special forces re-routed traffic around central Moscow. Participants, who hailed from distant regions as far as Ossetia, were bussed to the embassy, where a stage had been erected. Speakers then recounted stories of deaths caused by aggressive American foreign policy and American troops.
The demonstration, which started at 7PM, was over in two hours. The stage was completely dismantled by around 4 AM.
—