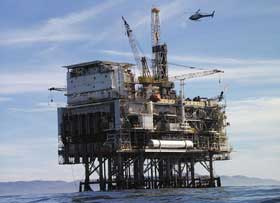 Oil prices have dipped to levels which could undermine Russia's federal budget, dropping near or below $70 per barrel on world markets today.  As the Bloomberg financial service agency reports, crude futures fell to their lowest prices in over a year on mercantile exchanges in New York, Tokyo and London.  The fall is the last in a price collapse spanning three months, where oil prices have dropped some 50 percent off of a 140 per barrel high in early July.
The 70 dollar mark is significant for the Russian government, which relies heavily on tax revenues from oil and gas extraction.  In September, Deputy Prime Minister and Minister of Finance Alexei Kudrin made the public announcement that Russia's 2009 budget would enter a deficit if oil prices sank below 70 dollars per barrel.
"70 per barrel is the price of a balanced federal budget for 2009," Kudrin had said, noting that the budget was formed with that price in mind.  "That being said," he went on, "the budget forecast for the average cost of oil in 2009 equals 95 dollars per barrel."
Analysts said that the dropping oil price was related to three major issues: slowing economic growth connected with a global recession, a growing difficulty in obtaining credit, and increased production outputs from non-OPEC member countries.
The inter day drop may also relate to a Nigerian court decision, which mandates that Royal Dutch Shell hand over control of a major oil terminal to the local population.
OPEC, meanwhile, may lower their daily production output in response to the falling prices.
"It will be one million [barrels], or more," Qatari Oil Minister Abdullah al-Attiyah told the al- Jazeera television channel. "Prices have fallen a lot and we need to take measures."