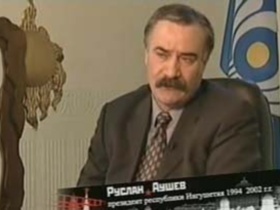 "Elements of a slow civil war" are evident in present-day Ingushetia, according to Ruslan Aushev, the former president of the North Caucasus Republic. Speaking on the Ekho Moskvy radio station, Aushev commented that the news coming out of the region were reminiscent of "reports from the front-line." The primarily Muslim republic has seen a surge in violence in past months, as insurgents clashed with local law enforcement and Federal armed forces accused of heavy-handed repression by human-rights activists.
Aushev, who served as president from 1992 to 2001, said that law enforcement authorities, public servants and ordinary residents in the region were all coming under fire. Attacks on state officials and kidnappings of ordinary citizens, allegedly at the hands of counter-terrorism troops, have spiked in recent months.
The latest outburst from Ingushetia was an assassination attempt on Ingushetia's interior minister, Musa Medov. Aushev did not connect the bombing attack with a blood feud over a slain opposition leader, but did not exclude the possibility that it was related.
The former president stressed that while the Kremlin was sending addition soldiers to Ingushetia, the economic, social and political problems of the republic would be impossible to solve by force alone. "Pressure by force gives rise to retaliatory pressure by force," Aushev said. "The radicalization of society is happening, especially of the youth. We need to understand what is happening."
Aushev also believes that the investigation of Magomed Yevloyev's death has been unnecessarily delayed. "This was a prominent person in Ingushetia," he noted. "It seemed to me, that this would be the most quickly solved crime in the Russian Federation over the last ten years. I thought, that by evening the first perpetrators would be arrested… The person is gone, and up until this point, they are still delving into it, transferring it to some kind of court. They should have gotten to the bottom of who did this in the space of an hour."
Meanwhile, Ingushetia.org reported that Ingush president Murat Zyazikov gave a coarse order to the republic's radio and television broadcasting center to block Ekho Moskvy's signal into the republic for the duration of Aushev's appearance.
Ingushetia.org is a copy of the independent Ingushetiya.ru news portal, whose domain name was revoked by a court order, and which has had increased problems with operating in the republic.
—
Read further background on the situation in Ingushetia from ReliefWeb.