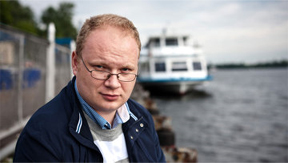 Updates on the case of Kommersant journalist Oleg Kashin's brutal beating back in November have been few and far between, and now Kashin says that he may know why. Writing on his blog on Tuesday, the journalist said investigators seem unsure what to do with their own unlikely resolution of the case.
Kashin said his colleagues have been telling him for weeks that the case of his attack has been solved.
Investigators supposedly believe that the motive for the beating was jealousy since Kashin had "stolen" the wife of one of the attackers. According to the journalist's friends, the investigators are too "shy" to announce this because Russian President Dmitri Medvedev is personally following the case.
"I called the head of the investigative group and asked whether it's true; he cursed in response and said it's not true. And then two days pass and one of my acquaintances again tells me, in strict confidence, about the 'domestic' version, about Medvedev and even about how news reports that the case has been solved are being held 'under embargo,'" Kashin wrote on his blog.
He added that he definitely didn't steal anybody's wife.
This is not the first time such rumors have reached the journalist.
"There were additional details even before January: that I left for Israel to avoid talking to investigators, that Medvedev was in the know about the 'domestic' version and doesn't know how to wrangle his way out of this situation," he wrote.
Oleg Kashin was attacked by two assailants on November 6, 2010. He suffered skull fractures, broken shins and his fingers were maimed; one had to be partially amputated. As Kommersant Editor-in-Chief Mikhail Mikhailin said at the time: "It is totally obvious that this was a planned action, naturally, connected with Oleg's professional work. They broke his fingers, legs; they wanted to cripple him."
Investigators reported earlier that the primary version of the motive for the attack was Kashin's journalistic activity. Analysts say his controversial articles about the Khimki Forest and various government officials could have provoked any number of possible attackers. President Medvedev reacted to the beating the very morning of attack and vowed to punish whoever was responsible for it, regardless of their status.