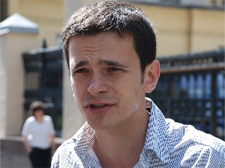 Update 02/09/11: Charukhin has recanted his testimony and Yashin says he's planning to present evidence proving his innocence. Read the update here.
The police officer who detained Russian oppositionist Ilya Yashin during a recent Strategy 31 rally has admitted that he falsified the report detailing the arrest, Novaya Gazeta reports.
On February 4, Moscow's Tverskoy Regional Court held a second hearing on Yashin's complaint about the verdict that sentenced him to 5 days of administrative arrest following the December 31 rally. During the hearing, police officer Artem Charukhin said he was given the oppositionist by an OMON riot police officer, who was "particularly violent" when "nearly shoving" him into a police bus.
When asked whether Charukhin participated in Yashin's actual detention or whether he saw how fellow opposition leader Boris Nemtsov was detained, he said no – contradicting his own notes in the police report that Yashin was convicted on.
The report reads: "On December 31 at 20:50 hours I was together with Kondrashov. This is when Nemtsov was detained. Citizen Yashin was together with Nemtsov. During Nemtsov's detention, Yashin actively resisted; he pushed me and Police Sergeant Kondrashov away from Nemtsov; he did not respond to lawful orders to stop his illegal actions, thus preventing us from carrying out our duties."
Charukhin admitted that the report was, in fact, dictated to him by a Basmanny Internal Affairs agency official named Dmitry Popsuev.
In addition, the court reviewed video recordings of Yashin's detention that showed he was detained before Nemtsov – making the police accusations that Yashin pushed the officers away from Nemtsov an impossibility.
Yashin's complaint comes after he served 5 days in jail on charges of disobeying police orders during the New Year's Eve Strategy 31 rally in Moscow. Fellow oppositionists Boris Nemtsov, Eduard Limonov, and Konstantin Kosyakin were also arrested in connection with the rally and served between 10 to 15 days in jail. Videos indicating that Yashin was innocent were not admitted to the trial as evidence and he promised to appeal his sentence upon being released. The oppositionists and their supporters say the arrests and jail sentences were politically motivated.