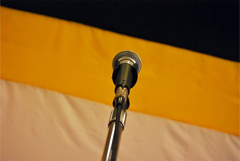 The newly-formed Other Russia political party has been denied registration by the Russian Justice Ministry, Lenta.ru reports.
According to a statement from the ministry's press service, the registration application was rejected because the party's charter "contradicts federal law." A five-page response with the substantiation behind this claim will be sent to the Other Russia's organization committee at some point, said a representative.
Commenting on the rejection, Other Russia executive committee member Aleksandr Averin said he was glad the Justice Ministry "deigned to remember our existence" but was surprised that ministry officials didn't respond sooner. By law, they were required to do so by January 20 – 30 days after Other Russia organizers handed in their application on December 30.
"According to our information, a decision has been made at the highest level not to register other opposition parties as well, those like the ROT Front, the RZC, the Party of National Freedom/For Russia Without Tyranny or Corruption," said Averin. "When we finally have the response in our hands, we will definitely appeal it in court."
In his opinion, the ministry would not have responded at all had it not been for appeals made through the media. Phone calls by the organization to the ministry had long gone unanswered.
"We all understand that this is just a formality and that the issue of our failure to register is political, not legal," said Averin.
Other Russia party leader Eduard Limonov said he would not make another attempt to register the party.
"There was nothing more to expect from our government," Limonov said on Ekho Moskvy radio. He echoed Averin's remarks that the Justice Ministry was preparing to reject applications for registration from another six opposition groups.
Without official registration by the Justice Ministry, political parties cannot participate in elections in Russia. State authorities routinely deny registration to opposition parties, who counter that the refusals are politically motivated.
The Other Russia political party was founded on July 10, 2010. At the time, Limonov said he planned to register the party to participate in the 2011 parliamentary elections. He personally plans to run for president in 2012. He had expected the party to run into problems in obtaining registration.