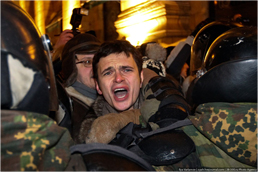 Ilya Yashin, one of the four Russian opposition leaders jailed following last week's traditional rally in defense of free assembly, has been released, Interfax reports.
The oppositionist's five-day sentence of administrative arrest ended on Wednesday evening. He had been arrested together with Boris Nemtsov, co-leader of the Solidarity movement, when the two attempted to cross over to an unsanctioned "Strategy 31" rally that neighbored a separate, sanctioned one. In court, police witnesses testified that the two were detained when they refused a police order to stop swearing. The court refused to admit video and other evidence from the defense contradicting the claims.
Yashin said he is trying to prove that his arrest was illegal. "We're going to try to appeal all of this. The problem is that it's the holidays right now and this is difficult to do. We're going to appeal, but we understand that the sentences have nothing to do with the law. The statements by police officers were falsified. The court decisions have nothing to do with the law," he said.
In an interview with Ekho Moskvy radio, Yashin accused the court of "boorishness" and of writing their decisions in advance.
Conditions in the prison, Yashin said, were about what one would expect. "An ordinary cell – bunk beds, crummy walls. Cockroaches climbing on the walls. A hole in the floor instead of a toilet. But we didn't expect to be in a health spa," he said.
The oppositionist intends to continue participating in protests, particularly the ongoing series of solitary pickets calling for the release of his fellow "convicts."
Meanwhile, Boris Nemtsov continues to sit out his 15-day jail sentence. Konstantin Kosyakin, one of the organizers of the unsanctioned Strategy 31 event, was detained at the metro exit before even reaching the rally and sentenced to 10 days in jail. The second organizer, Other Russia party leader Eduard Limonov, was arrested even earlier – outside his home on his way to the rally – and convicted that evening of petty hooliganism. His bodyguard, Kirill Manulin, was arrested at the same time and sentenced to 8 days in jail because he "used profanity" during Limonov's arrest.