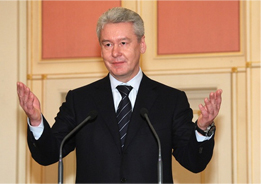 Update 12/22/10: Nearly two weeks after the fact, Moscow Mayor Sergei Sobyanin is saying that his remarks have been misinterpreted. "Any idea can be distorted, I never spoke about relocating pensioners beyond the city limits, that's complete drivel," Sobyanin told TVTs television. From what can be gathered by the incomplete text available on Interfax at the time of this update, the mayor supposedly meant only that proper medical services should be made available to pensioners while living in their summer homes on the outskirts of the city.

The newly-appointed mayor of Moscow, Sergei Sobyanin, is apparently proposing a measure to relocate pensioners from Moscow to "pensioner villages" far from the city.
"Think about it. It's possible to provide them with normal-sized plots of land, and to work on projects to build villages for pensioners," the mayor said on Friday.
The idea was originally proposed by Belgorodskaya regional governor Yevgeny Savchenko. At a session on Thursday at a presidential council meeting for Russia's Central Federal District, the governor said the problem of Moscow's expensive construction could be resolved through "a settlement policy."
"Make it so that there would be five million people living here [in Moscow], and all the issues would be resolved without capital investment," said Savchenko. He additionally promised to help other regional governors develop the infrastructure necessary for such a project. Under the plan, villages for pensioners would be built all across Russia's Central Federal District, which spans more than 250,000 square miles around Moscow – and possibly elsewhere. "This is a big country – there's the Far East, and Siberia," Savchenko said.
Upwards of 10 million people currently live in Moscow, where real estate and construction prices are among the highest in the world. The prices have partially resulted from construction policy under former Moscow Mayor Yury Luzhkov, whose billionaire developer wife was routinely awarded city contracts without a competitive bidding process.
Mayor Sobyanin responded positively to the proposal to relocate pensioners from Moscow. "Regardless of the fact that it seems amusing on the surface, there is a seed of rationality in this proposal," said the mayor.
"The fact of the matter is that Moscow pensioners live practically in all of your regions – in dachas, in small cottages," said Sobyanin. "Some live through the winter, cast aside, cold. Some in far away villages."
The mayor said that such a resettlement strategy could help pensioners currently suffering from their apparently uninhabitable Moscow housing. "It'll be so they feel normal," he explained. "This past summer they choked on smoke in those boxes, and it's better to live in good, well-built villages in nature."
Approximately 2.5 million pensioners live in Moscow.