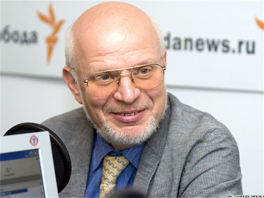 Following the controversial resignation of Ella Pamfilova as head of the Kremlin's human rights committee in July, Russian President Dmitri Medvedev has chosen to fill the spot with a figure many rights advocates hope will help to bridge the gap between civil society and the country's government authorities.
Mikhail Fedotov, secretary of the Russian Union of Journalists, was picked by the president on Tuesday to head the Presidential Civil Society Institution and Human Rights Council, as well as to be the president's human rights advisor.
Fedotov has spoken out on numerous occasions in defense of freedom of the press and many other rights issues, but alo worked as federal press minister prior to his job in the Union of Journalists – a possible cause of concern for some rights activists. At the same time, Fedotov was also a member of opposition leader Garry Kasparov's Free Choice 2008 committee, which issued a critical declaration of then-President Vladimir Putin, accusing him of crippling democratic freedoms and turning Russia into an autocratic state.
While most Russian human rights activists were positively surprised by Fedotov's appointments, some took a more critical approach.
"Fedotov isn't just a rights activist, he's also a former bureaucrat of the first order, with all the attributes," Kirill Kabanov of the National Anti-corruption Committee told Radio Free Europe/Radio Liberty. "I don't understand whether his appointment is a promotion for the council or something else."
Organizers of the Strategy 31 campaign in defense of free assembly immediately appealed to the new rights advisor to help solve the ongoing conflict between opposition activists and the Moscow city government over Triumfalnaya Square. Rallies held on the square have been routinely denied government sanction and brutally cracked down on by city law enforcement. On August 16, 2010, the authorities announced that the square would be closed until 2012 pending the construction of a massive underground parking garage, and issued a blanket ban on public events. Some opposition leaders have been attempting to get Triumfalnaya Square status as a UNESCO World Heritage Site, thus preventing the construction, which they see as a ploy to prevent opposition protests.
In response, Fedotov promised to resolve the issue.
"I'll try to do everything to ensure that this conflict disappears from the realm of public attention," he told Interfax on Wednesday.
Fedotov said that conflicts do not exist to be stirred up, but to be settled. "How it's going to be done, I'm not yet ready to say. I'm ready to use all possible means to get rid of this conflict. We need there to be less conflicts, not more," he asserted.
However the issue is resolved, UNESCO is unlikely to play a role.
"As a former ambassador to UNESCO in Russia, I can say that the process of getting one site or another onto the UNESCO World Heritage List takes no less than five years," Fedotov told Gazeta.ru. "Before getting onto that list, a site is first [put] onto a waiting list, and other procedures are carried out. We're going to resolve the issue of Triumfalnaya Square much sooner."