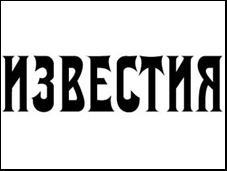 Izvestia, one of Russia's oldest and most prominent newspapers, has been issued a warning against printing "extremist" material, Kommersant reported on Tuesday.
The warning from the Moscow city prosecutor came after Izvestia published an article entitled "the New Russia and the New Turkey in the New World" by controversial State Duma Deputy Sergei Markov of the leading United Russia party.
According to the prosecutor, content in the article "approves of the activities of the leader of the prohibited religious association 'Nurdzhular,'" a russification for followers of Islamic scholar Said Nursi.
The article had been timed to coincide with the visit of Turkish President Abdullah Gül to Moscow last February. While Markov does mention "Nurdzhular" leader Fethullah Gülen, the text does not name the association itself.
"Moderate trends of Islam are becoming more popular in Turkey," Markov wrote. "Fethullah Gülen and his colleagues, who in principle do not deal with questions of politics, are developing the ideological basis of moderate Islam. This experience is useful for Russia, which is also searching for ways to unite Western institutions and national identity."
The newspaper is now required to respond to the warning with a letter to the prosecutor, or alternatively it may file a complaint in court.
"In accordance with the law 'Concerning the Media,' prohibited organizations may not be mentioned in texts without a note that they are banned by decision of the court. But absolutely nothing prevents a publication from writing about the person who leads it," said Mikhail Fedotov, secretary of the Union of Journalists of Russia. "This would be equal to banning Hitler's name, and therefore I see no violation of the law here."
Russian human rights advocates have long called for existing legislation regulating extremism to be annulled, and for the Interior Ministry's notorious Center for Extremism Prevention to be dissolved.
Opponents of the legislation allege that the extraordinarily vague formulation of the understanding of "extremism" in the Russian criminal code is appropriated by government authorities to persecute opposition activists and media.
In a recent example of such appropriation, law enforcement legal experts in the port city of Novorossiysk judged the slogan "They don't give freedom, they take it" as extremist. On this basis, authorities attempted to close a regional branch of the human rights organization For Human Rights, which held a rally in April 2009 using the slogan.