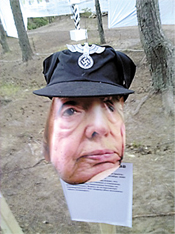 An outdoor installation set up by a pro-Kremlin youth group that equates Russian rights advocates with Nazis has elicited derision and outrage from within Russian civil society, Kasparov.ru reports.
A group of youth activists attending Seliger 2010, a summer-long camp that was founded as a training ground for the pro-Kremlin youth group Nashi but is now run directly by the federal government, erected a row of 13 plastic heads on sticks. Each head has a hats bearing Nazi symbols and a picture of a different Russian public figure, including former Soviet dissident Lyudmila Alexeyeva, musician Yury Shevchuk, and jailed oligarch Mikhail Khodorkovsky.
The installation was originally thought to be organized by Nashi itself, but was later found to be the work of a smaller pro-Kremlin youth group called Stal ("Steel"). According to the group's LiveJournal page, Stal is a "patriotic movement created for the unification of thinkers and prepared for decisive action for the sake of its country, for the sake of Russia, of youth." They also call themselves "the weaponry of Russia."
According to Ekho Moskvy radio, Russian Human Rights Ombudsman Vladimir Lukin is deeply enraged by the installation. He said that it would be hard to do more damage to Russia's reputation and that the organizers should be severely punished.
Russian bloggers immediately pointed out that the installation violates a federal law banning the public demonstration of Nazi symbolism.
Members of the Public Chamber, a federal body meant to foster dialogue between civil society and the government, called for a full boycott of the camp.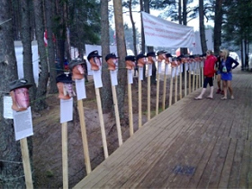 "I am deeply outraged that our best human rights advocates and well-known public figures – Lyudmila Alexeyeva, Nikolai Svanidze – are compared to Nazis," said Alla Gerber, Public Chamber member and president of the Interregional Holocaust Foundation. "The authors of this installation are irresponsible hooligans, absolutely insane people who don't know what Nazis are."
Nashi defended Seliger 2010 for allowing different youth movements to express different points of view, Stal's being no exception. In a statement posted on its website on Wednesday, Nashi said that the camp's administration "does not subject participants' statements to censorship, does not participate in the preparation of installations, does not pay for art objects that delegations bring along."
Lyudmila Alexeyeva told Ekho Moskvy that public figures would do best to ignore such incidents, and thus she does not plan to file suit for slander against the installation's organizers.
"Things like this don't offend me," said Alexeyeva. "And really, if they originate with Nashi, then excuse me, who is there to be offended by – those who make do without any human qualities, decency, or intelligence? Let them amuse themselves in this ugly fashion. Put up a caricature of an old woman who already looks sufficiently morose. If my grandchildren did this, then I would explain to them that good children don't do this. But here I'm not going to explain anything."