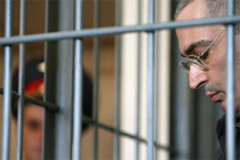 Jailed Russian oligarch Mikhail Khodorkovsky says he is beginning an indefinite hunger strike to protest what he says is an unlawful court ruling to extend his term in a pretrial detention center, Gazeta.ru reports.
The ex-CEO of former oil giant Yukos announced his hunger strike in a letter to Russian Supreme Court Chairman Vyacheslav Lebedev; his lawyers published its content on their website Tuesday morning. The letter outlines how a Moscow court ruling to detain Khodorkovsky and his co-defendant, Platon Lebedev, for another three months violates a procedural amendment introduced last month by Russian President Dmitri Medvedev. The two are currently on trial facing charges from the Russian government of embezzlement that they dismiss as obviously untrue and politically motivated.
"The Khamovnichesky Court, by ruling on May 14, 2010, to extend my arrest, blatantly disregarded the changes recently incorporated into article 108 of the Criminal Procedure Code [UPK] of the Russian Federation," says the letter. The changes referred to allow those charged with economic crimes to be released on bail except for under a limited number of circumstances: if their identity cannot be established, if they lack a place of residence in Russia, or if they have attempted to flee the country or hide from investigators. None of these circumstances apply to Khodorkovsky or Lebedev, who have been sitting out their 8-year prison terms in Siberia since 2005 as the result of a fraud case that was also widely viewed as politically motivated. Their lawyers had reminded the court of these amendments, which were introduced in response to the scandalous death of lawyer Sergei Magnitsky in pretrial detention last November, before the verdict was reached on Friday.
Nevertheless, Khodorkovsky goes on, "the court did not even consider it necessary to explain the reason for not adhering to the law." Moreover, he said that he knew of other cases where the new amendments had been similarly disregarded. He stressed that while he the ruling had little effect on his own situation, his hunger strike was geared towards protesting the precedent that it would set.
"I can't agree to something where the creation of a precedent in such a high-profile case would go unnoticed by the country's administration, since it will immediately be replicated by corrupt bureaucrats in hundreds of other, less high-profile cases," explained the former Yukos CEO.
Khodorkovsky said he wants "President Medvedev to know exactly how the law that was adopted altogether a month ago by his initiative… is being put to use, or, more accurately, is being sabotaged." Therefore, he intends to strike until he gets confirmation that the president has received "exhaustive information" on the precedent being set by the Khamovnichesky Court in failing to adhere to existing law.
Supreme Court Chairman Vyacheslav Lebedev said that he has received Khodorkovsky's letter and promised to look into the allegations and provide a response. Sources in Russia's Federal Penitentiary Service told RIA Novosti that they would be keeping track of Khodorkovsky's health, but issued no official comment. President Medvedev has so far given no response.
Vadim Klyuvgant, a lawyer for Khodorkovsky and Lebedev, reiterated his client's sentiment that the Khamovnichesky Court ruling is a "sign of catastrophe" that "is not so bad for our clients as it is for the entire country and for its president."
"Because if such sabotage is possible in a situation when the people wouldn't be released anyway, then what can we expect or say in regards to any other person who could and should have been released as a result of this law?" said Klyuvgant.
In comments obtained by the Christian Science Monitor, political analyst Andrei Piontkovsky explained how Khodorkovsky's decision "is a direct challenge to Medvedev to separate himself from the Putin era and enforce the laws that he himself has sponsored." As Piontkovsky elaborated:
"Khodorkovsky is making it necessary for Medvedev to define his position," says Andrei Piontkovsky, director of the independent Institute for Strategic Studies in Moscow. "His challenge is very clever, legally and politically. He isn't demanding that he be freed, rather just for confirmation that Medvedev has been made aware of his case. . . The ball is now in Medvedev's court. Will he choose to follow the logic of the law, and risk a damaging split with Putin? He will have to make a choice, and that could determine Medvedev's own political future."
Additional reading:
• Who Fears a Free Mikhail Khodorkovsky? – NY Times Magazine