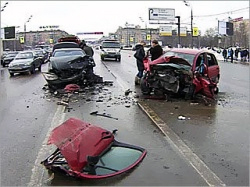 One of Russia's last remaining sources of uncensored media has apparently clamped down on one of its hosts for attempting to play a song critical of a high-level oil executive, Kasparov.ru reports.
Well-known culture critic Artemy Troitsky said on late Tuesday that Ekho Moskvy radio, widely considered to be one of the only sources of unfettered journalism left in Russia, prohibited him from playing a song by the popular rap group Noize MC on the program Osoboye Mneniye ("Special Opinion"). The song blames Lukoil Vice President Anatoly Barkov as at fault for a fatal car crash in Moscow last month that left two women dead.
Upon speaking with Ekho Moskvy Deputy Director Sergei Buntman, Troitsky was told that he couldn't play the song because it didn't fit the station's format and "we have never had this before." He also expressed concern that playing the song could result in accusations of copyright violation, since Osoboye Mneniye is broadcast in America and Israel on RTVi television.
When Troitsky told Buntman that the rapper had actually given him a recording of the song complete with all broadcasting rights, Buntman was silent. When Troitsky added that Osoboye Mneniye was a "rotten program," Buntman responded in outrage and told Troitsky that he would no longer be allowed to host the show. Having other broadcasting duties at the station, Troitsky says that he doesn't plan to file any complaints but is concerned at the incident.
The car accident in question occurred on February 25 on Moscow's Gagarin Square, and left 36-year-old driver Olga Aleksandrina and 72-year-old Vera Sidelnikova dead. Barkov and his driver sustained only minor injuries. Police were quick to lay blame for the accident on Aleksandrina, but witnesses have since come forward claiming that Barkov's armored Mercedes had been driving on the wrong side of the road to avoid a traffic jam. The resulting scandal has brought attention to Moscow residents' long-held concerns that elite members of Russian society are given free reign by the police to commit gross traffic violations.
As of the time of publication, a YouTube video Noize MC's song, "Mercedes S 666" has received more than 224 thousand views.
Troitsky's blog post can be read in Russian by clicking here.