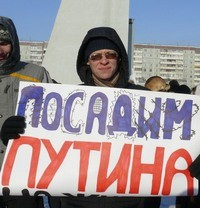 A student has been expelled from Omsk State University as a result of his political activism, reports the Open Omsk website.
Anton Zhebrun, one of the leaders of the Omsk regional youth branch of the liberal Yabloko eparty, was among students expelled from the university (OmGU) for "academic failure." Zhebrun, however, had a grade point average of 4.6 out of 5, equivalent to a 3.68 on the American system.
Opposition activists in Omsk believe that Zhebrun, a political science major, was expelled for his activism. Over the course of a year, the student had participated and organized a series of public events criticizing state and regional leaders and the police.
Last month, administrators at OmGU drew up a list of "extremist" students and set aside class time to discuss counter-measures against their activities. Some students on the list had participated in opposition activism, while others had been vocal in complaining about the quality of the school's cafeteria. It was not immediately clear whether Zhebrun had been on the list.
Sergei Kostarev, leader of the Omsk regional branch of Yabloko and professor of political science at OmGU, said that students on the list "do not have problems with studies and none of their teachers expressed complaints about the quality of their knowledge."
Close relatives and friends of the twelve listed students say that they periodically receive phone calls from people claiming to be from the police, saying that serious hardships await the students if they don't put a stop to their political activities.
The campaign in Omsk is not the first time Russian police have pressured universities to expel student protesters. In January, the Moscow Department of Internal Affairs sent a letter to the provost of the Higher School of Economics encouraging him to expel students arrested in the opposition March of Dissent.