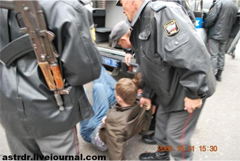 A leader of the Astrakhan regional branch of the Other Russia has been sentenced to three days in jail for allegedly failing to pay a fine.
Yury Kosov, who was sentenced on Wednesday in a Trusovsky district court by Judge Olga Dolgova, had been fined for organizing an ongoing series of rallies in defense of the 31st article of the Constitution of the Russian Federation.
Kosov was detained in his department on Tuesday in Astrakhan. After temporarily being held in a police station, he was transferred to the Trusovsky Regional Branch of Internal Affairs.
As of Wednesday evening, it was unclear whether Kosov had been present during his sentencing.
The rallies organized by Kosov were part of the Other Russia's Strategy 31 campaign, and take place throughout Russia every month with a 31st day. The rallies are meant to bring attention to the 31st article of the Constitution, which guarantees freedom of assembly. The rallies are carried out regardless of whether the organizers are successful in obtaining sanction from authorities. Each successive rally has been violently dispersed by police.
Approximately 70 demonstrators were arrested during the most recent Strategy 31 rally in Moscow. Organizer and activist Eduard Limonov was sentenced to 10 days of administrative arrest as a result.