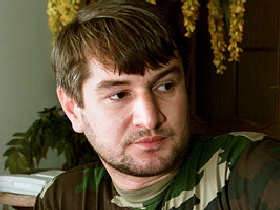 Seven suspects have been detained in Dubai, in connection with the murder of Sulim Yamadayev, a former Chechen military commander killed on March 28th.  Sergei Krasnogor, the Russian consul-general to Dubai and the Northern Emirates, told RIA Novosti that the suspects have Slavic surnames, suggesting they are Russian.
Yamadayev was a former Chechen rebel and warlord who switched over to the Russian side and went on to lead the "Vostok" (East) special military battalion.  He was widely believed to be a leading opponent of Chechen President Ramzan Kadyrov, who has consolidated power in the beleaguered North Caucasus republic in recent years.
According to Dubai police, Yamadayev was shot from behind in the underground parking area of a luxury residential building where he was staying, dying instantly.
Major General Dahi Khalfan Tamim told Reuters that, "the case is clear and there is no confusion over what happened. An organized criminal group was behind the assassination."
Since the collapse of the Soviet Union, Russia has fought two wars against separatists in Chechnya, a primarily Muslim region.  Many former rebel leaders, including Kadyrov and Yamadayev, eventually joined the Russian army, going on to become top leaders and decorated officers.  Although authorities have severely cracked down on militants, a low-level insurgency continues in the area, particularly in the neighboring Republics of Ingushetia and Dagestan.
Yamadayev was one of a group of powerful brothers who made up the Yamadayev clan.  As Kadyrov pushed out opponents in Chechnya, the clan clashed with the president in a power struggle waged in the courts and the streets.  In April 2008, some of Yamadayev's forces were involved in a shootout with Kadyrov's men after a road collision, which by some estimates left 18 people dead.  After the incident, Kadyrov publicly accused Sulim Yamadayev in a series of crimes, calling for his arrest and prosecution.
In May 2008, Yamadayev was relieved as commander of the Vostok battalion.  Three criminal cases were also launched against the former warlord.
On September 24th 2008, one of Sulim's brothers, former State Duma deputy Ruslan Yamadayev, was shot to death in Moscow.  At the time, the Kommersant newspaper reported that Sulim Yamadayev was trying to go underground, switching apartments repeatedly and surrounding himself with bodyguards.  No suspects have been apprehended in the shooting.
Yamadayev is the sixth Chechen who opposed Kadyrov to be murdered outside the republic in recent months.  Three more Chechen exiles have been shot to death in Istanbul, Turkey since September.  Another, Umar Israilov, had accused Kadyrov of torture before he was publicly assassinated in Austria in January.
Kadyrov has strongly denied involvement in any of the murders, describing them as an attempt to destabilize Chechnya and discredit him.  He called Sulim Yamadayev's death "tragic."