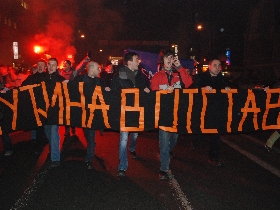 Small peaceful demonstrations took place in dozens of Russian cities Thursday, as opposition groups protested the way Russian authorities have handled the economic crisis.  Despite arrests and harassment in the days leading up to the "Day of Dissent," organizers said hundreds had taken to the streets in localized public expressions around the country.
Planners from the Other Russia coalition opted not to obtain permission from city officials, describing past instances where authorities responded by banning the meetings and using force against participants.  On Wednesday, police leadership warned that they would stop any public protest "not cruelly, but harshly."
In Moscow, where a reported 4,000 police were put on duty, around 200 protestors marched down Prospekt Mira (Avenue of Peace), blocking traffic and chanting "Freedom for political prisoners!" , "We need another Russia!" , and "Russian without Putin!"  Preliminary reports said that 15 people, including journalists from the Kommersant newspaper and the Associated Press, were briefly detained by police.
Protestors in other cities, from Orel to Yekaterinburg to Magnitogorsk, expressed their own grievances, from inflating food costs to discontent with how recent regional elections were handled.
In the week leading up to the Day of Dissent, opposition activists reported abuses and intimidation on the part of police.  A handful of young members from the banned National Bolshevik party were arrested Tuesday and sentenced to two months arrest on charges of "hooliganism."  Oleg Kozlovsky, the leader of the Oborona (Defense) movement, was similarly arrested on the campus of Moscow State University Wednesday with three other activists.  The group was distributing leaflets and informing students about the Day of Dissent using a megaphone.  Oborona later released a press-release saying Kozlovsky had run away from the police station, although the other activists remained behind bars pending a court date on charges of petty hooliganism.
The first Day of Dissent took place on January 31st, 2009.  Before that, opposition groups had staged larger demonstrations known as Marches of Dissent.  Organizers said they decided to decentralize the protests in an effort to keep police from shutting them down.