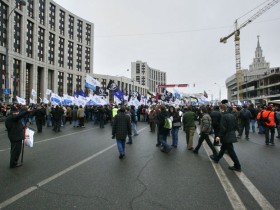 Organizers of an opposition protest in Moscow, scheduled for May 6th, have worked out a compromise with local law enforcement officials. Denis Bilunov, the executive director of the United Civil Front party, told the Sobkor®ru news agency that the group was now waiting for a decision by the Moscow mayor's office. Bilunov expressed his hope that the city government would accept the so-called March of Dissent. The event is expected to draw several thousand protesters into the streets to picket on the eve of President-elect Dmitri Medvedev's inauguration.
Bilunov said that a group representing the opposition had met with representatives of the local law enforcement at a round-table to negotiate the protest's location.
As The Other Russia press-service reported, a final decision by City Hall will only be released on May 6th at 12:00 PM Moscow time. The press-service denied reports by the RIA Novosti and Interfax news agencies that the March of Dissent was being cancelled.
The initial paperwork to hold the March was filed on April 21st. City Hall, required to respond to a notice of demonstration within 3 days, waited 8 days to issue a statement saying that another gathering by the pro-Kremlin Young Russia movement was already planned for the proposed location. The officials did not offer an alternate route for the demonstration, which is also required by law.
Organizers have complained about similar treatment of previous Marches of Dissent, when city authorities refused to register protests planned weeks in advance. Commonly, officials reply to every proposed location by claiming that another group, almost always a youth movement friendly with authorities, has already planned a rally there. On March 3rd 2008, police charged the unsanctioned Moscow demonstration with batons, arresting over 200 picketers.
Eduard Limonov and Garry Kasparov, two leaders of The Other Russia, reported on May 4th that they were being continuously followed by unknown individuals. The two said they were concerned that provocateurs were planning to interfere with the upcoming demonstration.
The Moscow March of Dissent is set to start at 18:00 local time by the Chistiye Prudy metro station. Protesters will then walk a fixed route to the Slavyanskaya Ploschad (Slavonic Square).