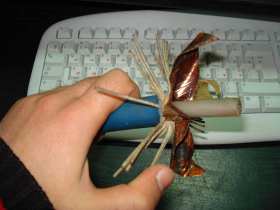 Russia's Prosecutor-General's Office wants to hold internet-providers responsible for objectionable and extremist materials found on the Internet. As the Itar-Tass news agency reports, the Office has filed corresponding proposals to both Russian houses of Parliament, the State Duma and the Federation Council, as well as the presidential administration.
Aleksey Zhafyarov, the deputy head of Directorate to supervise enforcement of laws on federal security, interethnic relations and countering extremism was frank with the agency:
"We have a paradoxical situation on our hands: there is a whole group of companies that maintain the internet and derive a profit, yet take no responsibility for the impact on society of the content they host."
The Prosecutor's Office proposes that law-makers clearly delineate "what is unacceptable on the internet in terms of public morality, public safety… and anti-extremist legislation." Since determining the author of online content is frequently impossible, the agency also calls on law-makers to "place responsibility for the dissemination of any such materials on those who furnish space for it."
"We are speaking about the self-controlling of the providers and telecommunications companies," Zhafyarov continued. "Of course, the question of which information is permissible and impermissible in each concrete case must be determined by a court decision. But now, it is nearly impossible to adopt a ruling, since there are no specific laws which would let us put the question of blocking access to information, or recognizing information as extremist before a court."
Critics of the proposal are worried that opposition blogs and websites may branded "extremist" and summarily shut down, a tactic that has been used offline against non-governmental organizations.
The Prosecutor General's proposal isn't the first law connected with regulating the internet to be filed this year. In January, Russia's Parliament began work on a law "On the Internet," which would create a legal framework for dealing with all online matters. In February, Vladimir Slutsker, a Federation Council delegate, introduced legislation that would force all internet sites with more than a thousand daily visitors to register as mass-media outlets. A third project currently in the State Duma would put limits on foreign investment in the telecommunications and internet industries.